IOM3 congratulates the winners of the 2013 IOM3 Awards, Medals and Prizes, as listed below.
Premier Awards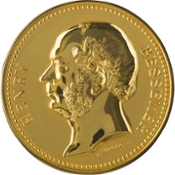 Prof Kenneth Mills
Kenneth has pioneered the study of metallurgical slags for more than 30 years, has significantly impacted on the production of steel, and is a mentor of young people early in their steel careers. Mould powders and slags are essential for continuous casting, which is the predominant steel production method today. Ken has led the study of such metallurgical slags and powders, and was one of the first scientists to help transform the powder's metallurgy from alchemy to science. Without this knowledge, it would have been very difficult to reach the levels of production and quality observed in modern steel plants. To demonstrate the impact that Kenneth has had on the steel industry, renowned specialists from around the world supported the nomination with a short statement on why he and his work were instrumental in the development of the steel industry as we see it today.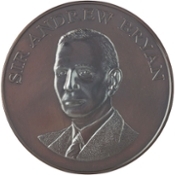 Christopher Hallas CSci FIMMM
Chris is Manager and Technical Director at Shire Minerals, and a member of the IOM3 Audit Committee. Until recently, he was Chairman of the Ceramics Society and a Board Member of Proskills Building Products Industry Group. Chris has provided technical consultancy, worldwide on heavy clay ceramics and waste minimisation projects, and was Technical Advisor to Waste and Resources Action Programme (WRAP) for four years. His contribution to the ceramics discipline in IOM3 through ICTa is exemplary. He has given his time freely to further the cause of ceramics, especially in the field of education.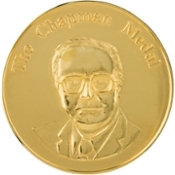 Dr Geoffrey Andrews
Geoffrey is the founder of Ranier Technology, a venture capitalist medical devices company, focused on product innovation and development in the medical application of Polyurethane.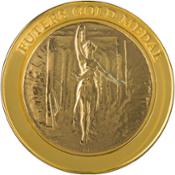 Philip Gray FREng HonFIMMM
Philip Gray graduated in 1947 with a BSc in Metallurgy, Royal School of Mines and has been engaged in the extractive metallurgical industry ever since. His distinguished career has covered all the disciplines in his chosen field, including research and development, engineering and design, business development and consulting. Following his first role as a Research Officer at the Atomic Energy Research Establishment, he continued his R&D activities at the Commonwealth Science and Research Organisation in Melbourne, Australia from 1951 to 1955 where he worked on hydrometallurgical methods of extracting uranium from Australian mineral deposits. In 1955 Philip returned to the UK and joined the Research and Development section of the Imperial Smelting Corporation at Avonmouth, and became Technical Manager in 1971. From 1978, he became an independent metallurgical consultant engaged by many mining companies worldwide. During this time he also worked with Professor Warner on the Warner Process for smelting zinc and lead from low-grade ores and Research and Development into extracting rare earths. While in London, he was able to become active in the Institution of Mining and Metallurgy and was elected President in 1984, the same year he was made a Fellow of the Royal Academy of Engineers. His most recent paper was published in a 2006 edition of Materials World reflecting his continued interest in pyrometallurgy.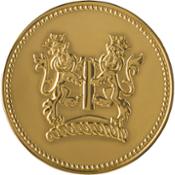 Luxfer PLC
Since its origins in 1897, Luxfer has transformed itself from the inventor of glass prisms and panels that increased lighting levels in buildings to a world leader in design and manufacture of lightweight high-pressure gas cylinders. The company focused on metal forming in the early part of the 20th Century and created a growing line of metal products. Following continued developments, in 1958 Luxfer opened its first aluminium cylinder manufacturing plant in California, USA and in the same year collaborated with pioneering undersea explorer, Jacques-Yves Cousteau, which led to the production of the world's first aluminium scuba tank from a 6xxx AI-Mg-Si extrusion alloy. During the past two decades, the company has created expertise in carbon fibre composite materials used for applications such as life support and emergency services, which require ultra lightweight cylinders. Luxfer now has four dedicated composite plants in USA, Canada, Germany and China, two all-metal facilities in the USA, its UK plant in Nottingham and one combined facility in France, as well as numerous satellite facilities in emerging economies.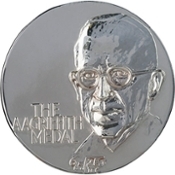 Dr Robert Broomfield CEng FIMMM
Dr Broomfield has made considerable contributions to the development and service implementation of aero-engine materials over a 27-year period at Rolls-Royce, and during a prior seven-year role at Imperial Metal Industries (IMI) in Birmingham. Bob worked at Rolls-Royce from 1979 on titanium alloys, moving onto hot section materials such as nickel superalloys and ceramics, and holding various managerial positions. In 1990, he decided to move away form the managerial route and pursued technical specialism, becoming Rolls-Royce's UK specialist in turbine aerofoil materials, where he stayed until his retirement in 2006. During his time as a specialist, he introduced the second generation single crystal alloy CMSX4 to Rolls-Royce and worked with Cannon-Muskegon to define and introduce the third generation single crystal alloys RR3000 and RR3010. His significant work in the field of aero-engine materials, demonstrated by the use of two generations of single crystal nickel superalloys in turbine blades, has permitted Rolls-Royce to make dramatic improvements in turbine entry temperature, and therefore, specific fuel consumption. He is widely acknowledged and respected as a world expert in this field by his colleagues, co-workers in the supply chain and in academia.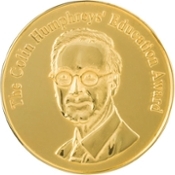 Mark Rogers & Warren Dransfield-Scott, King Edward VI High School
Mark and Warren have developed a project which allowed year 12 students studying STEM subjects to find out more about Materials Science and Engineering and encourage them to pursue a career in this subject. The project largely took place outside normal lessons at lunchtimes and after school and required the students (and teachers!) to commit about 18 hours to working through the various activities, concluding at the end of the summer term so that Materials was fresh in their minds as they considered University courses and careers. During its first year in 2011-2012 around 20 students took part in the project and it has continued to run with a new cohort of year 12 students this year. The pair were shortlisted Rolls-Royce Science Prize in 2012, and were the only secondary-level project to do so. They were both very keen to roll their project out on a larger scale and as such it has been used as the model for the Armourers and Brasiers Tata Sixth-Form Materials Prize. The development and implementation of this project has all been done outside of their normal teaching commitments.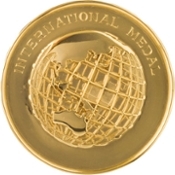 Patrick Doig CEng MIMMM
The 3rd International Conference on Shaft Design and Construction 2012 was held at the IOM3 headquarters in London. It was only the third conference to be held specifically on the subject over a period of 53 years, the first being held in London in July 1959 and the second at Harrogate in June 1989. All three conferences drew contributors and participants from all over the world. 2012's conference embraced both civil engineering shafts and deep mine shafts. The paper by P J Doig provided a very useful design guide for practitioners needing to construct civil engineering shafts. Firstly, it gave a good overview of all the different types of linings capable of being installed in various ground conditions, both soil and rock, and also covers shallow and deep situations. The lining designer is therefore provided with a valuable reference work to assist in choosing an appropriate shaft design solution. Shaft construction techniques are set out in a diagram for easy review, as a result it is considered to be the best paper submitted to the Conference from an overseas member of the Institute.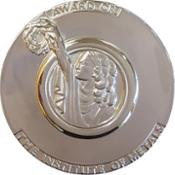 Sir Colin Humphreys CBE FRS FREng FIMMM
Colin is Professor of Materials Science and Director of Research in the Department of Materials Science and Metallurgy, University of Cambridge and a Fellow of Selwyn College, Cambridge. He is a Fellow of the Royal Society and a Fellow of the Royal Academy of Engineering. He was educated at Luton Grammar School, Imperial College (BSc) and Cambridge (PhD).
Colin was a lecturer at Oxford and a professor in Liverpool before moving to Cambridge. He founded and directs the Cambridge Centre for Gallium Nitride, and also founded a spin-off company, CamGaN, to exploit the research of his group on low-cost LEDs for home and office lighting. The company was acquired in February 2012 by Plessey, which will manufacture LEDs based on this technology at its factory in Plymouth. Colin founded and directs the Cambridge/Rolls-Royce Centre for Advanced Materials for Aerospace. Materials developed by this Centre are now flying in Rolls-Royce engines. He has given public lectures on science throughout the world and has received national and international medals for his research in electron diffraction and microscopy, and in GaN. He was knighted in 2010 for services to science.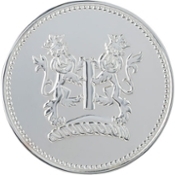 Sarah Haigh MEng DPhil
Sarah's research involves the use of high resolution imaging to understand the structure of materials and hence to interpret and predict their physical properties. The range of material science subjects is very diverse but includes nickel superalloys, catalysts, electronic devices, superconductors and quantum dots and novel 2D materials such as graphene. Sarah publishes regularly in prestigious journals and has written three book chapters. As well as achieving significant funding, she has established a growing research group at the University of Manchester. Sarah is heavily involved in materials education alongside her own research and has travelled all over the world training scientists to be better able to use electron microscopy to solve challenges in material science both professionally and on a voluntary basis. Her recent work on using novel catalytic materials for energy recovery from waste water was featured on the front page of the Daily Mail website and in the last few months she has been working with the BBC, filming news features and the Horizon programme.
Local Society of the Year Award (Large)
MinSouth
Local Society of the Year Award (Small)
East Midlands Materials Society - EMMS
Tom Colclough Medal & Prize
EurIng Norman Cooper CEng FIMMM
Colwyn Medal
Prof Mark Warner
Dowding Medal & Prize
Michael Clark CEng MInstMC
Frank Fitzgerald Medal & Travel Grant
Liam James Booth
Grunfeld Memorial Award & Medal
Prof Michael Preuss
Hadfield Medal & Prize
David Howarth
Leslie Holliday Prize
Ebrahim Ghavam-Shahidi
Hume Rothery Prize
Dr Andrew Watson MIMMM
Ivor Jenkins Medal
Dr Mark Hardy CEng FIMMM
Kroll Medal & Prize
Dr Karin Hing CEng MIMMM
T B Marsden Professional Medal
Frank Wild CEng FIMMM
Outstanding Contribution Awards
Dr David Gooch CEng FIMMM
Stuart Patrick MRSC FIMMM
Keith Barnes CSci CEnv FIMMM
Rosenhain Medal & Prize
Prof Ian Kinloch FRSC
Rowbotham Medal
Emeka Ikwueze CEng
Thomas Medal & Prize
John Charles Twiselton CEng
Thornton Medal
Major Peter Norton
Verulam Medal & Prize
Prof Paolo Colombo, Ing (Italian certified engineer) FACERS FIMMM
Harvey Flower Titanium Award 2012 (Retrospective)
Professor Martin Bache CEng FIMMM CPhys
Alan Glanvill Award
Characterisation and analysis of microchannels and submicrometre surface roughness of injection moulded microfluidic systems using optical metrology
G Tosello, F N Marinello & H Hansen
Guy Bengough Award
Pitting corrosion of stainless steel: measuring and modelling pit propagation in support of damage prediction for radioactive waste containers
S M Ghahari, D P Krouse, N J Laycock, T Rayment, C Padovani, T Suter, R Mokso, F Marone, M Stampanoni, M Monir & A J Davenport
Billiton Gold Medal
Kinetics of pre-reduction of manganese ore by CO Mineral
Y B Gao, H G Kim & H Y Son
Composite Award
Compressive behaviour of nanoclay modified aerospace grade epoxy polymer
A. Jumahat, C. Soutis, F. R. Jones & A. Hodzic
Cook/Ablett Award
Constant intermittent flow of dislocations: central problems in plasticity
L. M. Brown
Douglas Hay Medal
Progress and challenges in some areas of deep mining
E.T. Brown
Mann Redmayne Medal
Shale-hosted Ni-(Cu-PGE) mineralisation: a global overview
S. M. Jowitt & R. R. Keays
Materials World Medal (Joint)
How Safe is that Nuclear Reactor
Prof George Smith
Cracking under pressure
Dr Emile S Greenhalgh
Pfeil Award
Densification and preservation of ceramic nanocrystalline character by spark plasma sintering
R. Chaim, R. Marder, C. Estourne´s & Z. Shen
James S Walker Award
Maria Nelson
Wardell Armstrong Prize
Background concentrations of gold in different rock types
K Pitcairn
Williams Award
Review: The Butterfly Effect in Continuous Casting
P D Lee, R E Ramirez-Lopez & K C Mills et al.
Vanadium Award 2012 (Retrospective)
Developing Bearing Steels Combining Hydrogen Resistance and Improved Hardness
Dr Blanka Angelika Szost, Dr P E J Rivera-Diaz-Del-Castillo & Erik H Vegter
Beilby Medal & Prize
Professor Xiangfeng Duan
Charles Hatchett Award
Strengthening Mechanisms and Their Relative Contributions to the Yield Strength of Microalloyed Steels
Prof Douglas Ivey, Junfang Lu, Olapido Omotoso, J Barry Wiskel & Hani Henein