Technical Communities - who are they, what do they do, & how do I get involved?
Keep up to date with your area of specialism. We also explain how IOM3 groups work and how and why you can get involved.

What are the Technical Communities, and what do they do?
The Technical Communities (TCs) of IOM3 are groups members can opt to be part of that provide a focus for activity within a specialist area and member identity spanning the broad range of disciplines covered by IOM3 ('the materials cycle'). A reviewed and modernised TC structure was launched in April 2022 consisting of the current 22 groups, down from 40+ previously, which in part were a legacy of numerous mergers going back to the early 1990's.
As part of the structure launched in 2022, IOM3 developed a series of nine overarching technical themes, which will act as the pillars across all activity, and underpin everything IOM3 does. The TCs will operate across some or all of these themes with the intention that cross group collaboration is encouraged.

Why get involved?
Involvement with groups helps you to maintain and grow your knowledge (part of your required CPD), gain professional recognition, add to it in other related areas, and help others to learn/become better professionals. In addition groups provide members with networking opportunities and the mechanism to help increase the influence and awareness of what the Institute offers to both members and externally. Many members engage with these groups as it allows them to give something back.

Overarching technical themes
Digital
Energy
Health
Infrastructure
Materials & Manufacuring
Extraction
Skills
Sustainability
Transport

Each TC has a Leadership Team (LT), comprised of a diverse range of IOM3 members with a chair appointed by the IOM3 Trustees through open competition. LTs deliver activities as set out by the current Terms of Reference, including generating event ideas, technical content and providing a network whereby members can access information and tools to further their professional development. If you are interested in becoming part of a LT for any of the 22 TCs listed below below then please email [email protected], with a CV and few words why you are interested.
Below also shows the respective community size, in terms of members of IOM3 who have selected that group in their IOM3 profile. Members of IOM3, through the MyIOM3 portal at iom3.org, can specify one primary TC, and as many of the 21 other TCs as secondary preferences as they like. All members are encouraged to log on, check their profile details are correct, up to date and reflect their current interests. These can be changed at any time, hence any data is a snapshot at that moment. The data for each is shown below and is accurate as of 15 June 2023.

Why provide this data?
It provides snapshot of the size of each community within IOM3 and allows us over time to see how each community grows or declines and to assess if new groups are needed or existing ones have served their purpose. We seek to get all members engaging with their TCs, getting involved and with this the group will thrive. Every member has a role to play here and we encourage you to take part, help your group(s) and promote the work they do as a core part of IOM3, to your various networks. A strong vibrant TC structure means engaged members.

TC size as defined by IOM3 member preference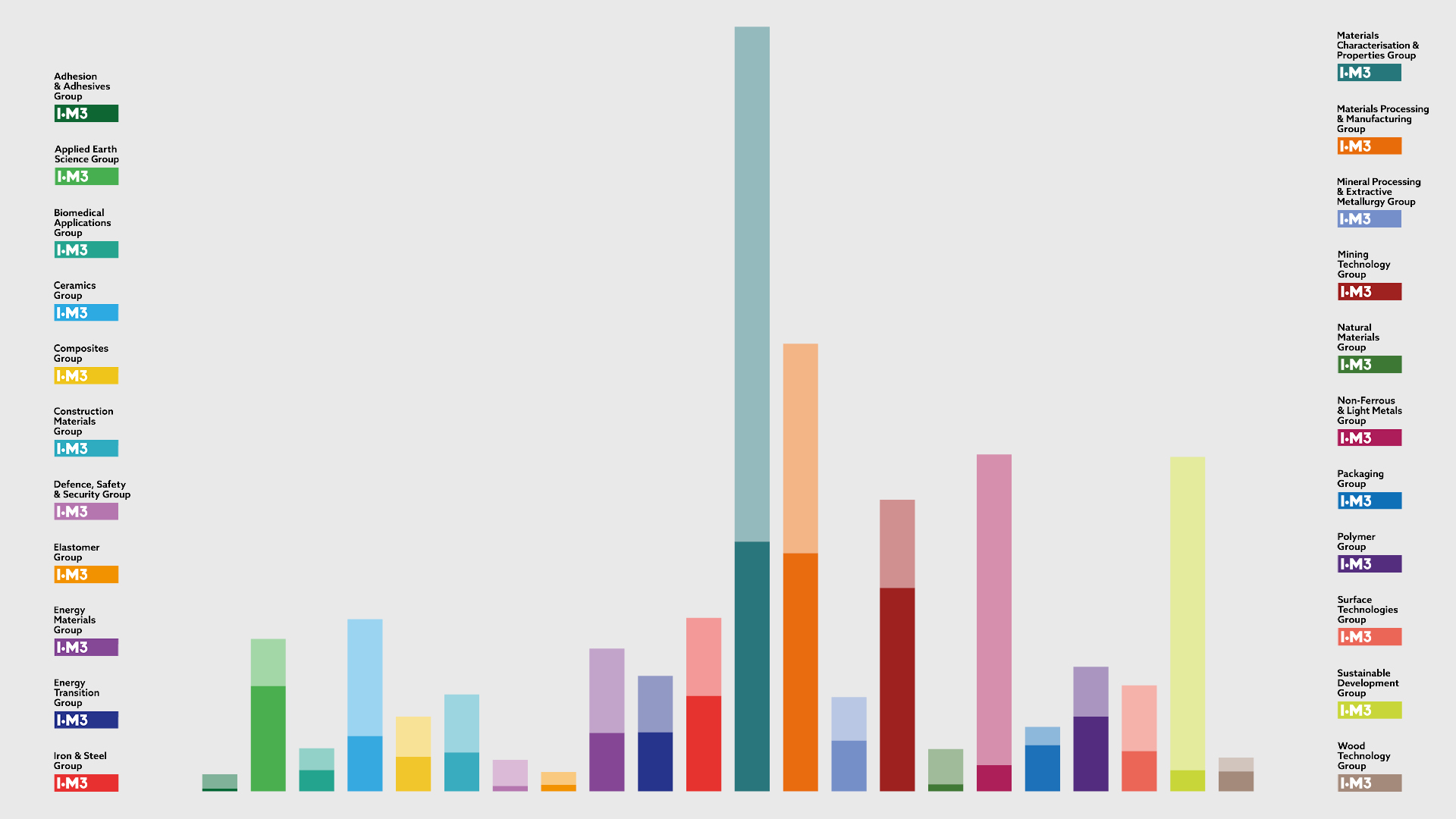 | | | |
| --- | --- | --- |
| TC | Primary preference | Secondary preference |
| Adhesion & Adhesives Group | 17 | 102 |
| Applied Earth Science Group | 740 | 332 |
| Biomedical Applications Group | 148 | 154 |
| Ceramics Group | 387 | 824 |
| Composites Group | 242 | 283 |
| Construction Materials Group | 272 | 409 |
| Defence Safety & Security Group | 35 | 185 |
| Elastomer Group – formerly the Rubber In Engineering Group, RIEG | 44 | 90 |
| Energy Materials Group | 409 | 595 |
| Energy Transition Group | 413 | 399 |
| Iron & Steel Group | 670 | 550 |
| Materials Characterisation & Properties Group – new from April 2022 | 1757 | 3629 |
| Materials Processing & Manufacturing Group – new from April 2022 | 1676 | 1476 |
| Mineral Processing & Extractive Metallurgy Group | 355 | 307 |
| Mining Technology Group | 1432 | 621 |
| Natural Materials Group | 47 | 249 |
| Non-Ferrous & Light Metals Group – expanded remit as of April 2022 | 183 | 2189 |
| Packaging Group | 323 | 130 |
| Polymer Group | 525 | 351 |
| Surface Technologies Group | 282 | 463 |
| Sustainable Development Group | 146 | 2208 |
| Wood Technology Group | 138 | 98 |