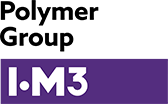 The IOM3 Polymer Group (formerly the Polymer Society) is a community of professionals with a shared technical interest in polymers, led by a team of volunteers. The group supports the development of future sustainable polymer supply chains by facilitating knowledge exchange and actively engaging in consultations and policy shaping. The group seeks to embed sustainability and circular principles into all aspects of production, processing, application and recovery and covers all technical, educational and professional considerations related to polymers. The group includes the former Polymer Processing & Engineering Committee.
Latest polymer news & resources
I believe the purpose and values of the Polymer Group have never been so important. Polymers will no doubt play a key role in the future of energy and resources, food, health, mobility & infrastructure and communication.
Meet the Polymer Group Leadership Team