Securing the foundation - EDI in the foundation industries
Jo Stansfield, Senior EDI Project Manager for TransFIRe, reports on the role of equality, diversity and inclusion in the foundation industries to achieve net-zero in 2050 and greater sustainability.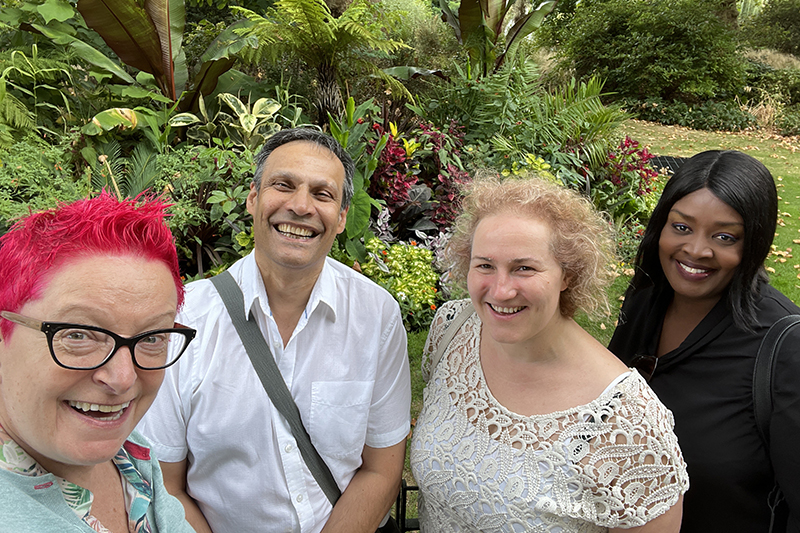 TransFIRe, short for Transforming the Foundation Industries Research and Innovation Hub, is a UK Research & Innovation (UKRI)-funded, proactive, interdisciplinary, inclusive, research and practice driven hub. It encompasses 12 research organisations based in the UK and more than 80 project partners from across the foundation industries, trade associations, professional membership bodies, civic sector and government organisations.
An article for Materials World in July 2022 shared the PESTLE approach taken by TransFIRe to analyse macro factors in political, environmental, social, technological, legal and economic domains, to identify initial key intervention points for transformative change towards net-zero 2050 and greater sustainability in the foundation industries.
Here, we focus specifically on the social factors, and particularly the role of equality, diversity and inclusion (ED&I). Across industries and businesses of all sizes, the prominence and importance placed on ED&I has grown rapidly in recent years. Numerous studies have shown correlation between board/leadership diversity with profitability and business performance.
The business case for diversity is being echoed and amplified by business leaders around the world.
Yet, across the foundation industries – chemicals, cement, ceramics, glass, metals and paper – we find this business case is not yet firmly established. United in their challenge to reduce energy and resource usage, there is also striking commonality in challenges regarding skills and talent. However, little academic or industry-led research has yet captured the complete skills and diversity landscape of these industries. Together, these limitations are constraining sector development of strategies for ED&I.
Research by the European Research Council and UKRI has examined age and gender representation in the sector. With an ageing workforce, there is acute concern about loss of skills through retirement. The pipeline to develop new talent is insufficient to replace the retirees. Like the manufacturing sector more generally, women and younger employees are underrepresented, with women employees predominantly found in non-production roles. We are not aware of any research on representation by any other identity characteristic, such as ethnicity or social class, while sector image poses a problem in attracting new talent of all identities.
The challenges continue into the job readiness of candidates, with many foundation industry organisations reporting that the specialist skills required by their businesses are not taught in apprenticeships or degree programmes.
Furthermore, with the majority of these businesses being SMEs, many are not well equipped for succession planning or training for a more diverse talent pool.
Yet, compounding these challenges, the skills profile and therefore training need is evolving rapidly as new technologies and processes emerge. There is concern that, without engagement with the higher education system, the future skills needs cannot be met, and firm-level efforts alone will be insufficient to tackle the broader attraction, progression and retention challenges. Cross-sector collaboration is therefore essential.
Listening closely
TransFIRe's ED&I strategy has been developedin response to these identified challenges. As a new topic to the foundation industries, ED&I has been under-researched and there are significant gaps in knowledge. We are therefore starting by listening and learning from our industry partners, and from progress made in other sectors.
Our initial research focus will be to deepen understanding of the dynamics of race/ethnicity and social issues. We are learning from site visits and hosting online workshops to initiate discussion and knowledge-sharing across the sector.
We aim to establish self-sustaining industry practices regarding ED&I, and a forum to develop and share best practice that endures beyond the lifespan of the TransFIRe programme.
With our partner organisations, we have established an ED&I Working Group and are building a Foundation Industry Playbook for ED&I, beginning with mapping support already available and gathering case studies from partners.
This Playbook will continue to develop over the remaining two years of the programme, to produce a set of resources that support organisations to create inclusive cultures, and attract, develop and retain diverse talent.
The big picture
Situated within the broader industry transformation, we consider ED&I as integral to the overarching vision. By aligning ED&I with the future skills requirements, it can be seen as a strategic enabler for how the goals of clean technologies, reduced waste and net-zero 2050 can be achieved.
Organisational culture begins at the top, and the pivotal role of leaders in creating a culture of inclusivity cannot be understated. We will be engaging with industry leaders to provide support, through events and via the best practices shared through the Playbook, to drive greater ED&I within their organisations.
Like all business projects, comprehensive data, benchmarks and performance measures must be established to assess impact and evaluate change over time. Given that major environmental, economic and societal benefits may accrue years after our activities end, as is typical for academic-industry programmes, ED&I will be included in the 10-year monitoring strategy for TransFIRe to ensure legacy from our Hub is captured.
Finally, we must set the foundations for an industry culture that is attractive to and inclusive of diverse talent. Work is needed to change the perceptions of these industries, and build more inclusive, equitable cultures for those already working in them today.
Visit transfire-hub.org/edi for further information, follow the team on Twitter @TransfireEDI, or email [email protected] with any questions, comments, or if you would like to get involved. TransFIRe is funded by the Engineering and Physical Sciences Research Council.