Rebuilding Syria from rubble
A method of recycling concrete rubble left by war could help rebuild key infrastructure in Syria.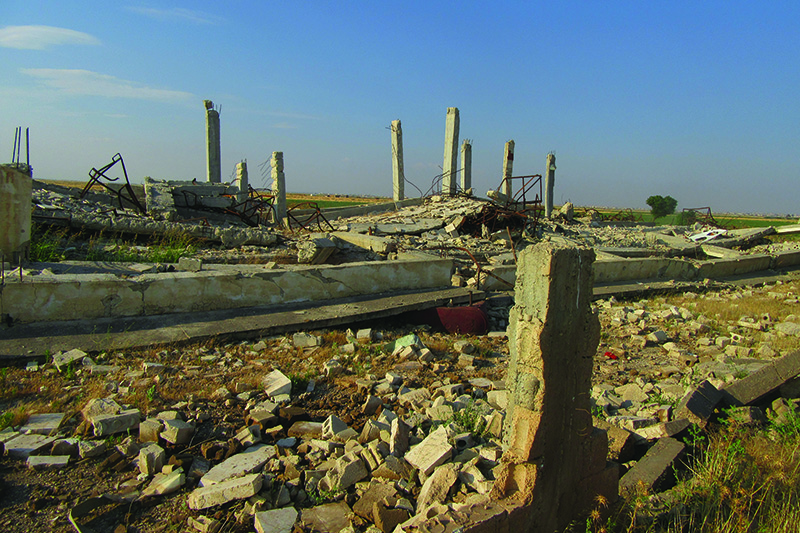 Researchers at the University of Sheffield, UK, propose that recycled concrete aggregate made from rubble of destroyed buildings in Syria could replace up to 50% of raw materials to make new concrete without significantly affecting performance.
They have been collaborating with the Middle East Technical University, Türkiye, and exiled Syrian academics for the past four years to find new ways of reusing the huge amounts of rubble from the civil war. The Syrian academics are being supported by Cara (Council for At-Risk Academics) Syria Programme.
Dr Theodore Hanein MIMMM, UK Research and Innovation Future Leaders Fellow, explains how the war has left more than 130,000 buildings destroyed, with 70% of them made from reinforced concrete. Furthermore, after the recent earthquake, even more buildings in the northern parts of the country have been damaged or destroyed.
The team has used real rubble collected from 10 sites in Al-Bab city in Northern Syria – five urban and five rural. The rubble was sorted manually to remove any wood, textiles, metal, bricks, tiles, etc. The concrete was then crushed onsite with a mobile jaw crusher into recycled concrete aggregate about 5mm-25mm in size and recycled concrete fines of less than 5mm. The recycled concrete aggregate was mixed with cement and sand, replacing coarse aggregate in the fresh concrete mix designs.
"'part from the need of a crusher such as a jaw crusher to crush the recycled concrete locally, the equipment needed is similar to that for producing standard concrete. Concrete can be crushed quite quickly – hundreds of tonnes per day capacity is easily achievable with mobile crushers,' explains Hanein.
The team used standard techniques, mainly American Society for Testing and Materials based. They do not foresee a difficulty with using rubble from different locations as the material they collected and reused was similar enough to work with.
They have also investigated other waste materials, such as the fines, bricks, tiles and glass, as cement precursors or as supplementary cementitious materials. Hanein notes that other materials, such as wood, steel and textiles can also be recycled.
The team claims their work addresses concerns around whether the final product will be as strong and reliable as traditionally produced concrete and that there is the potential for this to be replicated around the world.
They believe that although using concrete from rubble is not a new idea, this is the first time a proven technique has been developed for buildings destroyed in war and anticipate that this method could be used in any war-torn or disaster-affected location, perhaps even for large, planned, demolition projects.