Manufacturing sector shows resilience and recovery from COVID and Brexit
Simultaneously tackling the impacts of COVID-19 and Brexit, the UK manufacturing industry has had to adapt. We review the industry's recovery and consider future challenges.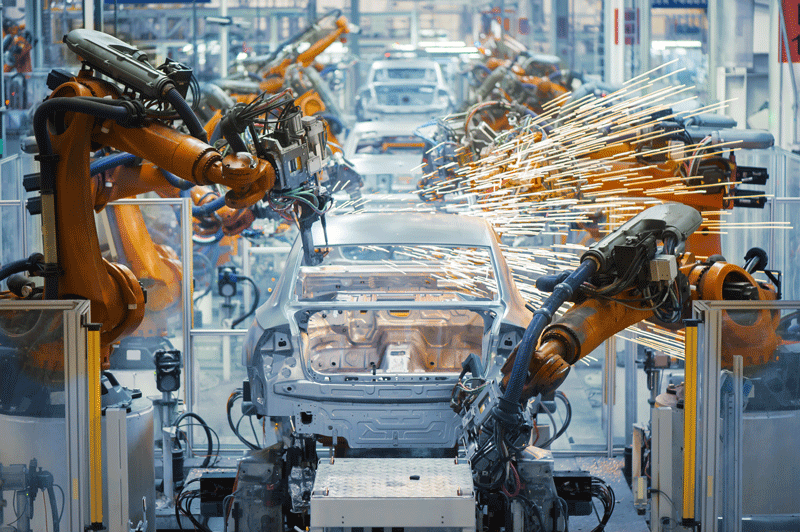 'COVID-19 and Brexit coming at the same time was a double whammy or perfect storm for many businesses, including manufacturing companies, [with] so much turmoil, uncertainty and change all packed into a condensed period,' exclaims Tony Summers, Head of Manufacturing at MHA Carpenter Box – a sector specialist and sponsor of manufacturing forum METALL.
Yet, manufacturing trade body Make UK reports that there has been an indicated swift bounce back in its Q3 Manufacturing Outlook 2021, with many companies returning to work at 'unprecedented levels'. It notes, however, that the sector is yet to achieve any new growth as, on average, manufacturers are still 'clawing back lost output' from 2020. 'The total Gross Value Added (GVA) of the industry isn't expected to reach pre-pandemic levels until at least 2022.'
According to the survey of Make UK members, business confidence has, nonetheless, reached a new peak, with output balance at its highest on record (42%), UK orders balance at its highest on record (48%), export orders recovering quickly (37%), jobs continuing to grow (23%) – but at a slower rate – and investment intentions also at their highest on record (37%).
The survey reads, 'An output balance of 42%...indicates that the largest ever share of manufacturers have increased their output levels, relative to those that have reported a decrease. This continual expansion in output is mirrored by the continual growth in order books both domestically and internationally.'
The publication suggests this is mainly due to growth in domestic orders. 'However, export orders have also continued to improve since the start of the year, as manufacturers from the UK side better adapt to new trading conditions. Yet, some risks remain as manufacturers from the EU side are only beginning to understand the weight of the changes in the UK-EU relationship,' the report caveats.
The trade body warns of the risks that could hinder the sector's recovery, such as supply-chain disruptions, rising shipping costs, and raw material and labour shortages. It says, 'The biggest issue to dominate UK manufacturer's agenda in recent months are supply-chain related issues, which, in turn, are leading to rising cost pressures and increased selling prices. Both UK and export prices reported at a record high balance of 49% and 43%, respectively, with expectations prices would rise further in Q4.
'For the first half of this year, manufacturers were passing on costs only partially, as evidenced by negative balance scores for margins. However, this quarter [Q3], it appears margins are increasing again indicating that manufacturers are passing on higher costs at greater rates down the supply chain.'
Commenting on increasing issues around labour shortages, the report says individual cases need to be taken into account. It states, 'What this means for each manufacturer depends on the situation they are now dealing with following the reopening of the economy. Some manufacturers no longer need access to the Job Retention Scheme (JRS) and instead are struggling to fill vacancies for both high-skill and low-skill roles. In addition, the logistics industry is also facing a shortage of 100,000 drivers for lorries and heavy goods vehicles (HGVs), creating problems for businesses even if they can satisfy their labour needs.
'On the other hand, other manufacturers, who are yet to benefit from the boom in activity or are being increasingly slowed down by shortages of raw materials, are still reliant on the JRS and risk increasing redundancies.'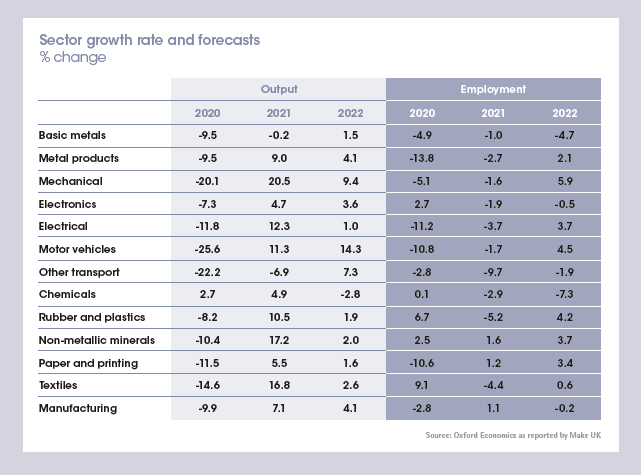 Trick of the trade
Summers recalls confusion at the beginning of the year, post-Brexit, around moving goods from one country to another. 'This impacted inbound supply chains and exporting goods. A lack of consistency by import and export officials, both foreign and domestic, certainly didn't help matters.
'Traditional trading routes have, to a degree, settled down now, but there is often a bit of a panic that sets in when dealing with a new country as the rules are so very complex. I have seen some instances where certain European companies, based in the EU, have stated to their UK supplier that they are only interested in doing business with an EU-based company simply to make their administration easier.'
The Trade and Co-operation Agreement (TCA) signifies one of the biggest changes to how UK manufacturers do business with the EU. According to Make UK's report, Trade and cooperation with the EU: Six months on, released in July, the manufacturing sector's experience was mixed during the first six months of 2021.
Although there was an inability to separate the impacts of Brexit from those of COVID-19, 96% of manufacturers reported challenges in dealing with the new trading environment. 'Being compliant with the new customs paperwork and procedures was the initial challenge, but this has eased as companies' understanding of the new processes has vastly improved,' the paper reads. 'However, while this is true for almost half of firms (47%), over one-third are still reporting on-going challenges with customs, primarily small- and medium-sized enterprises (SMEs).'
It continues, 'What is significant, is that while exports to the EU were clearly a challenge, it was disruptions to imports into the UK that presented the most significant difficulty.'
Summers pinpoints the challenges. 'Where the trade under threat is significant, those UK companies have had to either find EU partners to act as intermediaries, or set up EU-based distribution companies in order to maintain current trading levels, and this obviously comes with increased costs, which are not always easy to pass on.'
He notes that companies also struggled to have the ability and time to plan for the transition post-Brexit, 'what systems they may need to change, what the cost implications of that would be and how to factor that into product pricing.
'COVID provided the perfect distraction to many businesses, which is not surprising considering it removed Brexit from hogging the headlines…If the COVID pandemic had not happened, there is no doubt that the sector would have been better prepared for Brexit. Some sleepwalked into the New Year putting out each fire as they came along'.
Post-pandemic production
Back in February 2021, Make UK released its last pandemic period monitoring report, around the time that the UK emerged from another lockdown and restrictions began to ease. Just over half of the companies surveyed at the time had already made redundancies, 44% of companies had no staff furloughed, and only 6.5% were planning on further redundancies over the next six months. Since then, steps to further ease restrictions in the economy have improved conditions.
Summers says, 'Many manufacturers experienced supply chain issues during COVID, particularly in the early lockdown period. These problems largely eased prior to the start of this year, peaked again due to Brexit and the difficulty of getting certain items into/out of the UK, before finding some stability before the current well-publicised shortage of HGV drivers in the UK began to take effect.'
The extent of recovery, Summers suggests, now depends on the sector and the entrepreneurial spirit of the manufacturers. 'Some manufacturers remained flat out through COVID, making social distancing and loss of staff due to positive COVID tests a huge challenge in terms of being able to satisfy customer demand. Those companies remain in a strong position.
'Others have struggled to gain orders and have made extensive use of the furlough scheme and now find themselves without that safety net as the furlough scheme has come to an end, leaving them with yet more difficult decisions, particularly if they can't see order levels increasing to pre-COVID levels. It really is a mixed bag out there.'
He adds, 'I would say that the majority are now close to being back to normal. However, many businesses are now looking at negotiating repayment plans for the Coronavirus Business Interruption Loan Scheme and Bounce Back loans, and for deferred VAT payments that are due to avoid significant cash-flow issues.
Summers points out that many companies are now looking at growth opportunities. 'For many, this means accessing finance for new plant and machinery, which is easy to do if their balance sheet looks strong, but a much harder sell if it looks weak. The Government's new 'Super deduction' capital allowance is welcome.
'It came in on 1 April 2021 and gives a 130% capital allowance on qualifying plant and machinery to set against taxable profits. This will allow manufacturers to cut their tax bill by up to 25p for every £1 they invest, making the UK's capital allowance regime amongst the most competitive in the world. Manufacturing companies need to make sure they factor in these cash savings into their projections when making plant and machinery investment decisions and when seeking the much needed finance.'
Winter is coming
Emerging into winter, a new threat arises for manufacturers – the energy crisis. Reuters, at the time of press, reports an increase of 400% for wholesale gas prices in Europe, partly due to low stocks and strong demand from Asia. This has had a significant knock-on effect on Britain's most energy intensive manufacturers, including producers of steel, glass, ceramics and paper.
The British Ceramic Confederation (BCC) is one of the many organisations urging the government to step up. Jon Flitney, BCC's Energy & Innovation Manager, says, 'We urge the government to take actions to limit the impact of high market prices, whether to help members now or through the rest of winter. Our members would be very reassured if gas emergency measures were changed, which would give protection to their kilns and equipment in the event of a network emergency.'
Anna Leach, CBI Deputy Chief Economist, warns, 'Current issues reinforce the need for government to take a more active approach to gripping the economic recovery. That will mean working together with business to ease these critical supply challenges that are affecting manufacturing production across the UK and risk putting the brakes on the recovery. With pressure on energy supply set to increase in the colder months ahead, energy security is vital for ensuring that crucial parts of the supply chain are able to continue operating.'
Despite the challenging climate, optimism remains. 'I expect activity levels to continue to grow steadily,' Summers predicts.
'I expect business to find a way to renew and re-invigorate pre-Brexit and pre-Covid trade both domestically and internationally.
'The last 18 months or so have demonstrated beyond doubt that the UK manufacturing sector is resilient, adaptable and innovative. I hope to see new investment sparking further growth in the sector and for the UK to continue to be at the forefront of new technologies and innovation.'