IOM3 hosts 2021 Education Awards & New Fellows' Dinner
IOM3 hosted an evening of celebrations (16 November 2021) to announce the 2021 IOM3 Education Awards winners and honour the Institute's New Fellows.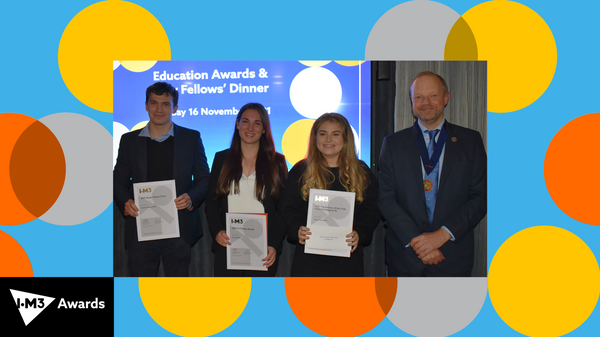 Congratulations to all the New Fellows who were present:
Mr Darryn Quayle FIMMM

Mr David Bagshaw CEng FIMMM

Dr Emma Claxton CEng FIMMM

Dr Haixue Yan CEng FIMMM

Dr Philippa Moore FIMMM

Dr Steven Wagstaff FIMMM
Dr Haixue Yan FIMMMM said, 'Becoming a FIMMM was really important for my career. I realised I had a responsibility to the materials community. It has given me more confidence to continue with my research in ceramics and hopefully will provide me with better opportunities in future.'
IOM3 also celebrated this year's 2021 Education Award winners and a huge congratulations to the following award winners:
A T Green Award – Emily Milan
A T Green Award (Special commendation) –Zhuoqi Li
R H Craven Award – Zexiang Han
Royal Charter Prize – Daniel George Mills
Technician of the Year Award (Cat A) – Maya Constable
Dr Laura Cohen MBE CEng FIMMM, a judge for this year's awards, said 'It was a fantastic experience meeting so many talented materials scientists with a real interest and passion. I have been impressed with all the finalists' interest in solving practical problems using materials science. There are some great examples of students' work in outreach to inspire the next generation.'
The 2022 IOM3 Awards and Prizes are now open for nomination with a closing date on 31 January 2021. Nominate a colleague who is going above and beyond to recognise personal achievement, for published work and for contributions to the profession.
It was such an honour to be shortlisted for the award let alone winning. I'm so grateful for the event as it showcased all the amazing work everyone is doing with in the industry, which led to a lot of interesting discussions that allowed even more insight. This award helps to recognise the work being done in sustainability and how truly important it is.
I was delighted to receive even the nomination in the first place so to win the award feels like an amazing achievement and rewarding to see the hard work I put into my degree get recognised by such a prestigious organisation.
I had a fantastic evening meeting people with such broad experiences in materials sciences and was so pleased to win the A T Green award reflecting my love of ceramics. I look forward to getting involved in many more of the wonderful opportunities IOM3 has to offer.