A look back on 2021 by our Student & Early Career Committee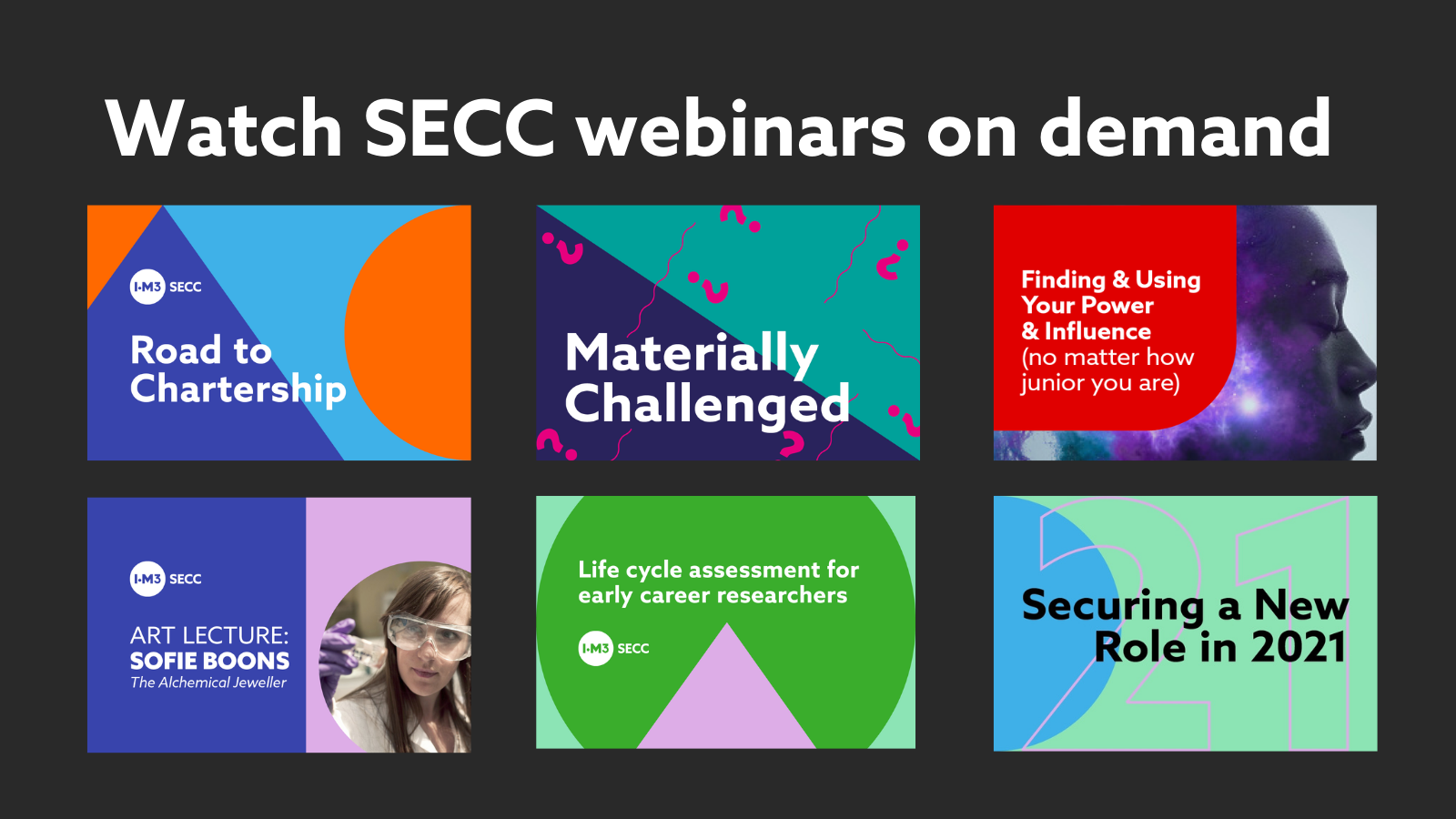 As we look forward to being able to hold physical events again in the hopefully not too distant future, we do hope that those that attended our virtual events over these last few months have enjoyed the experience.
Securing a New Role in 2021
Held in collaboration with our very own WIM3, this lunchtime panel discussion and Q&A with HR professionals from academia and industry gave an excellent insight into what makes a job application stand out from the crowd, what recruiters are really looking for, and provided great advice when it came to things to avoid. Given the success and relevance of the event, this will be something we look to repeat in the future.
Finding and using your Power and Influence (no matter how junior you are)
Dr Katie Best (Founder & Director of TaylorBest www.taylorbest.com) delivered this fabulous event that was exclusively for IOM3 members. The workshop led by the professional leadership development consultant gave members the opportunity to pick up some valuable tips and techniques that no doubt will help them succeed as they progress throughout their careers.
Our fun filled materials, minerals and mining themed quiz was back again led by our brilliant Quizmaster, Tomasz Zalewski!
We held another of our Road to Chartership events, this the first in collaboration with MAPP (https://mapp.ac.uk). This event aims to let students and early career professionals know all about why you should aspire to become chartered and how to go about it. Three superb talks were given by Martyn Jones (Rolls-Royce plc), Noriko Read (IHI) and Sarah Boad (IOM3).
The Alchemical Jeweller Sophie Boons gave a truly enjoyable lecture giving the audience an insight into the problem-solving processes required in the transformation of ideas using novel materials. Sophie really captivated the audience leading to one of the longest Q&A sessions following an event in recent memory!
For the rest of the year we have a mix of physical and virtual events planned so please keep a look out for these. You can ensure you hear about these events as well as other relevant information by signing up to receive updates from the Student & Early Careers Committee by adding us to your profile under 'My Groups/communities' on the IOM3 website. We look forward to seeing you at an event soon.
If you'd like to get in touch, please email us at [email protected]
Catch all our webinars on demand, via www.iom3.org/events-awards/webinars.html
Martyn Jones
Chair, SECC
Join the SECC group
Upcoming events
An overview of LCA for materials science, it's advantages and controversies, followed by an open discussion about participants' LCA experiences.
Teams required to orienteer around the city by following clues which lead to destinations within a materials science theme.
A one day conference for students and young professionals to showcase their work.
Follow us on social media