2022 Student & Apprentice Awards winners announced
On 17 November IOM3 hosted the first Student & Apprentice Awards, with Royal Charter Prize and Category 1 winner Britoni Farrer-Williams and other Category winners Callum Partridge (Category 2), Martina Piemonte (Category 4) and shortlisted finalists attending the evening event and prize-giving ceremony.
Britoni undertook a BTEC Level 3 Diploma in Composite Engineering achieving a distinction and more recently completed a Composites Technician apprenticeship within the Composites Department at McLaren Racing, Woking, UK. Working within a high-pressure and historically male-dominated industry, Britoni has managed to shine through with hard work and determination according to Tom Batho CEng MIMMM.
Britoni Farrer-Williams, said, 'Going back and studying I was very nervous... so to actually come out the other side and realise that I've studied... what I love and is my passion, I've had some recognition for that and it's kind of settled in my mind that I did the right thing going back to education. It's amazing what can happen with materials and what materials can do, and the fact that they are just around us. So there's natural materials and you don't realise that until you actually start studying it and looking at the world in a way.'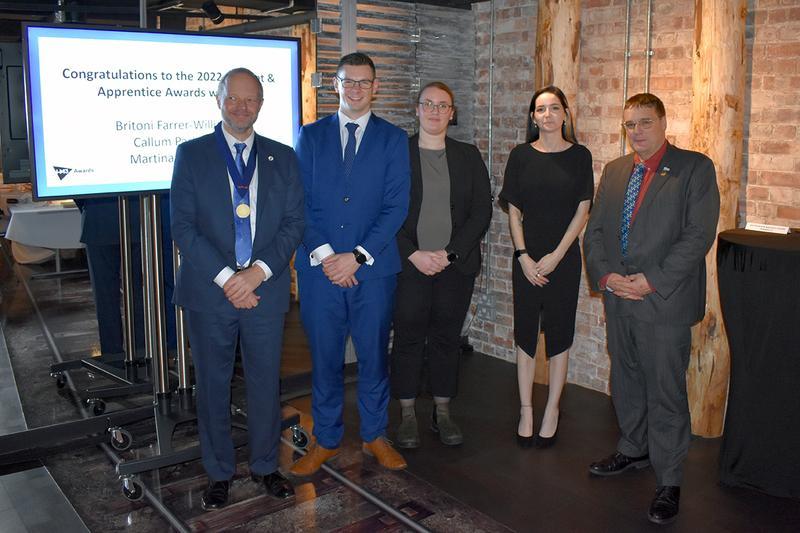 Earlier this year the Education & Outreach Fund announced this new set of awards to recognise excellence in IOM3 members that have recently completed a qualification or apprenticeship in a materials, minerals or mining related fields in the following categories:
Best student/apprentice on a Level 2 or Level 3 programme
Best student/apprentice on a Level 4 or Level 5 programme
Best student/apprentice on an IOM3 accredited or certified BSc/BEng programme (Level 6)
Best student/apprentice on an IOM3 accredited or certified MEng programme (Level 7)
Best student/apprentice on an IOM3 accredited or certified non-integrated Masters MSc programme (Level 7)
President of IOM3 Neil Glover FREng CEng FIMMM, commented, 'The purpose of the newly launched Student & Apprentice Awards was to recognise excellence, and I'm confident this has been achieved when considering this year's inspirational finalists. It's crucial that we are celebrating the work of early career individuals who will have the skillset to move us all towards a more sustainable and resource efficient society. A wholehearted congratulations to all of our 2022 Student & Apprentice Award finalists.'