Rathosivan Gopal of Malaysia wins online YPWLC 2022
The winners of the 2022 Young Persons' World Lecture Competition (YPWLC) were announced on 10 November 2022.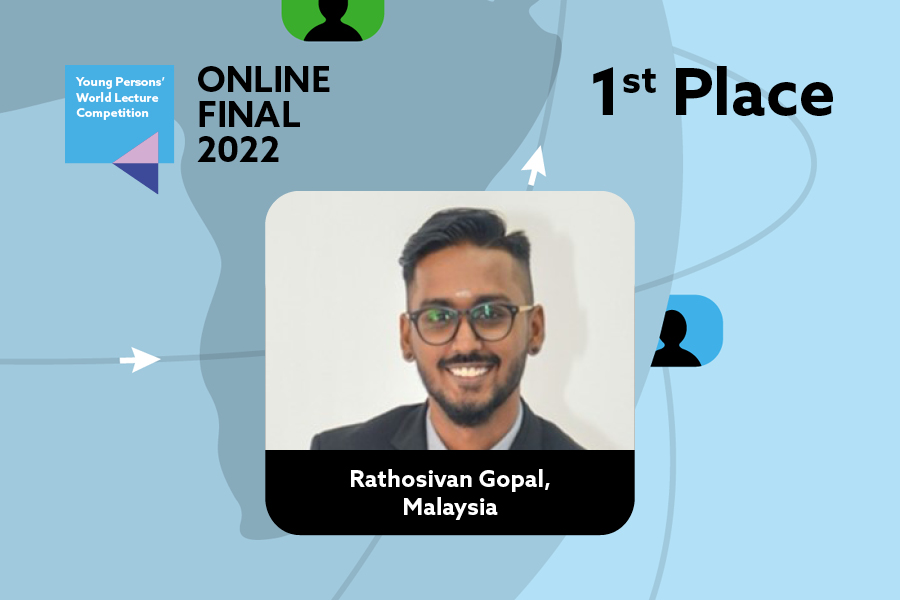 The finalists from around the world including Canada, Hong Kong, UK, South Africa and Malaysia had won their respective YPLC finals and represented their region or country at this year's final. Lecture topics ranged from the contradictory material properties of snail mucus to plastics for renewable energy devices.
The winner this year was Rathosivan Gopal representing Malaysia, with his lecture on 'Immobilisation of factor VII through polydopamine grafting of polycaprolactone membrane for cardiac bleeding.' Rathosivan is currently completing his six months training attachment at Laval University, Canada funded by the Canadian government. He has presented his preliminary research work in Quebec, Canada at the QCAM student symposium 2022 and virtually at Japan in the 8th ICCME 2021 conference in the field of biomaterials, polymer and mechanics.
Second prize was awarded to Lauren Eggleton representing the UK, with her lecture 'A sticky situation: The contradictory material properties of snail mucus.' Lauren is a second year PhD student in the Materials Science and Engineering Department at The University of Sheffield, UK.
Third prize was awarded to Kate Fraser, representing Canada, for her lecture 'Plastics for renewable energy devices'. Kate is a PhD candidate in the Department of Chemistry at Simon Fraser University, supervised by Dr Steven Holdcroft. After completing her Bachelor's and Master's in Chemistry at Lancaster University in the UK, she moved to Vancouver, Canada to pursue her PhD.
The YPWLC competition began in the UK as a way of encouraging young materials scientists and engineers to develop their communication and presentation skills. Each finalist gave a lecture of 15 minutes on a topic related to materials, minerals, mining, packaging, clay technology and wood science and engineering.
The judging panel included Chair, Neil Glover FREng CEng FIMMM, President, Dr Kate Thornton CEng CSci FIMMM, Senior Vice-President, and Dr Aimee Goodall CSci MIMMM, Chair, Student & Early Career Committee.
The ability to convey complex technical information in an enthusiastic and understandable way to a non-specialist audience has become an essential requirement in today's rapidly changing world. It aims to provide a friendly atmosphere of competition in which young engineers and scientists can develop their presentation skills by addressing an informed audience.
Each presentaion from the YPWLC final can be viewed online by selecting the respective profile image. Well done to all this year's finalists. To find out more about the 2023 YPLC competition and local heats, please see below.