Q&A – Prof Sohini Kar-Narayan FIMMM
Mike Rolph talks to Sohini about her career in materials science and the process of professional registration.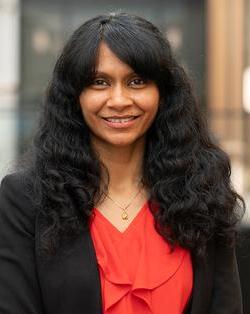 What is your background?
I am a Professor of Device & Energy Materials in the Department of Materials Science at the University of Cambridge, where I lead an interdisciplinary research group working on functional nanomaterials and devices for energy, sensing and biomedical applications. My research covers novel energy harvesting nanomaterials to microfluidic biosensors, to the additive manufacturing of next-generation flexible electronics. I received my PhD in Physics from the Indian Institute of Science, Bangalore, India, in 2009.
I then moved to Cambridge as a postdoc and began my independent research career through the award of a Royal Society Dorothy Hodgkin Fellowship in 2012, and a European Research Council Starting Grant later in 2015. I am a founding Director of ArtioSense Limited, winner of the 2022 Armourers and Brasier's Venture Prize, that seeks to commercialise a novel force sensing technology for precision orthopaedic surgery. I was also recognised as one of the top 50 Women in Engineering by the Women's Engineering Society in 2021.
How did you find the IOM3 Fellow application process?
The application process was extremely smooth. I was provided with all the information I needed, and I felt well-supported throughout. The fact that there was no deadline meant that the whole process did not feel stressful, and I could take the time to prepare my application.
What does being a Fellow mean to you?
I am so proud and delighted to be a Fellow of IOM3. This is an incredible recognition of my contributions to materials science and engineering. Being a Fellow has opened many professional opportunities and networks for me, including access to mentorship. In turn, I am looking forward to supporting members of the materials community, particularly from historically under-represented groups. I am really excited to learn, explore and contribute!
What's next?
As a Fellow, I am looking into professional registration and shall definitely make the most of the huge amount of support that IOM3 offers in this regard. As I have just spun out a company (ArtioSense Limited) from my materials research lab, I look forward to networking opportunities and avenues for translational research. I am also looking at continuing my professional development, particularly in developing my entrepreneurial skills as I embark on my start-up journey.