Materials Open Research – Open for Submissions
We are delighted to announce that the Materials Open Research publishing platform is now open for submissions.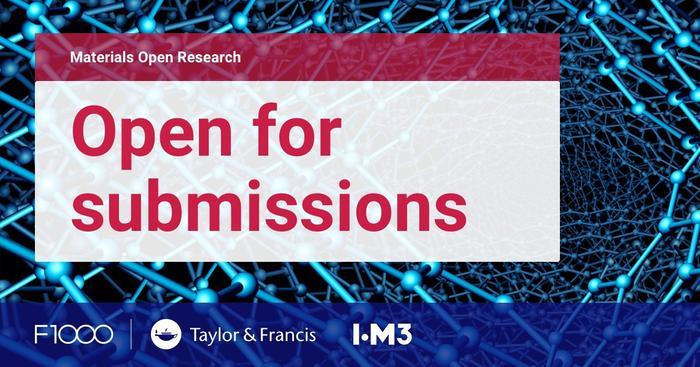 As the first affiliate partner with our own research gateway, this platform enables IOM3 and future affiliate partners in the materials science field to be the first adopters of a more open and transparent approach to publishing materials science research.
All researchers working in materials science are eligible to publish in Materials Open Research. The platform enables all research outputs to be published open access, so free for anyone to read, and combines the benefits of pre-printing (providing rapid publication with no editorial bias) with mechanisms to assure quality and transparency. These include invited and open peer review, article versioning, archiving and indexing.
Materials Open Research offers researchers an open and transparent peer review process and has a mandatory FAIR data policy to provide full and easy access to the source data underlying the results. As well as research articles, Materials Open Research will feature a variety of article types including method articles, study protocols, software tools, systematic reviews, data notes, brief reports, and opinion articles.
The platform welcomes null, negative, replication and confirmatory studies, which aim to improve the transparency and reproducibility of research. Materials Open Research will also provide the option to publish non-peer reviewed materials including technical reports, training materials, posters, slides, and other documents.
We hope that by releasing this platform and offering different opportunities to those within the materials, minerals and mining communities we can enhance the publishing experience and drive discussion around related topics.
Are you ready to submit your research? Visit the Materials Open Research Platform for more information.