Materials, minerals and mining - essential for our future
IOM3 Policy Fellow, Rachel Stonehouse, and CEO Colin Church FIMMM on IOM3's joint report with the Henry Royce Institute around the net-zero transition.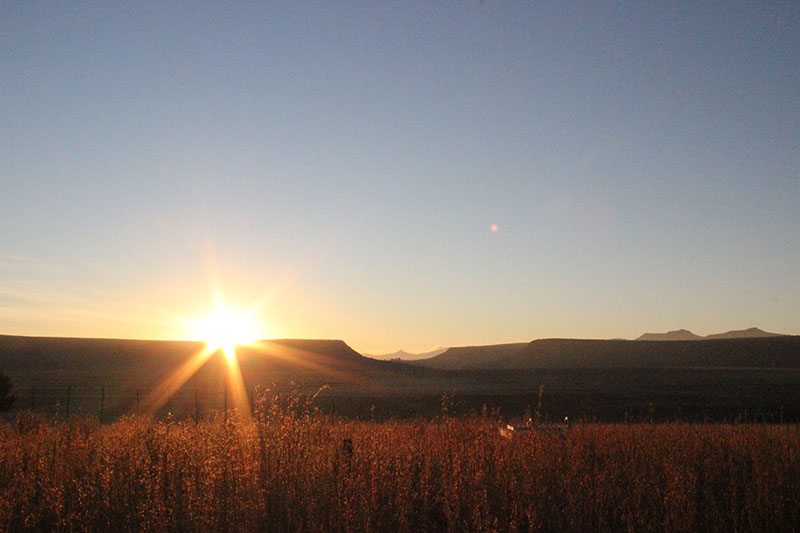 What materials we use, where and how we get them, how we use them, and what we do with them once they have been used are questions fundamental to the development of UK society and economy.

In the run-up to the Glasgow Climate Summit (COP26) last November, IOM3 and others made the case for the importance of materials, minerals and mining in enabling the transition to a low-carbon, resource-efficient society. Our Sustainable Future activities were a big part of that, as was the document we produced with the Henry Royce Institute setting out some of the ways in which our members' expertise is essential in delivering the transition.

This took the UK Government's Ten Point Plan for a Green Industrial Revolution and highlighted for each of those ten points ways in which our areas contribute (see below).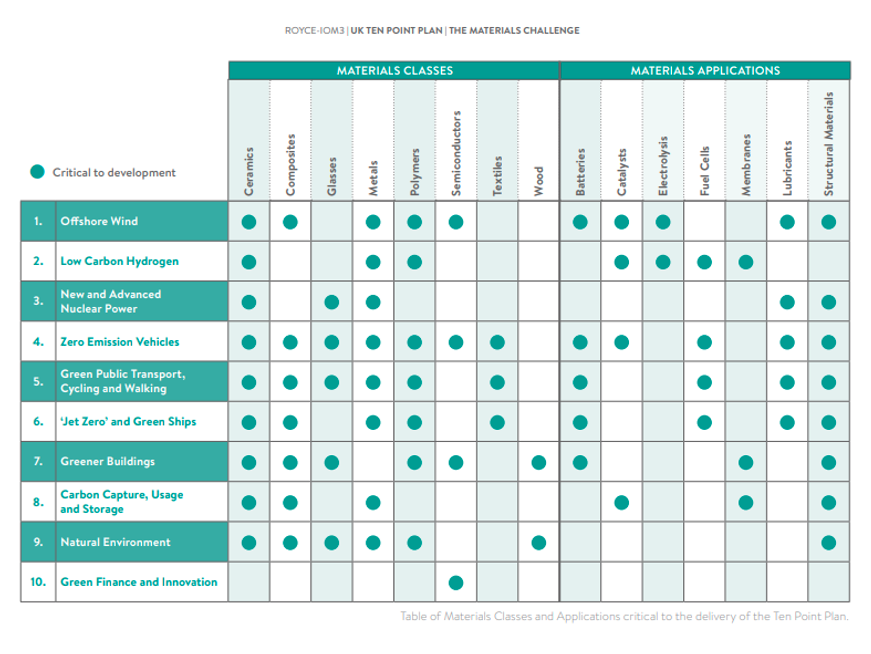 On the move

For transport, whether by land, air or sea, materials technology across the full lifecycle is key to decarbonisation. Alternative fuels and the drive for electrification requires sustainable supply, processing and application of high-performance materials throughout the system, including batteries, motors, electronics and hydrogen fuel cells.

Successful acceleration of the shift to zero emissions vehicles (point four of the government's plan) will be underpinned by materials, minerals and mining. Solutions will need to be delivered across a range of sectors, from improvements in battery technologies and electric motors, to more sustainable circular design of vehicle bodies, nanomaterials innovation to tackle tyre pollution, and novel textile materials for interiors.
At all stages the lifetime, circularity and management of the materials must be considered, from the use of aluminium, lightweight steels, polymers or composites for light, strong and safe vehicle bodies, to soft magnetic materials forming stators and rotors of electric motors that can withstand a range of operational environments.

Fifty per cent of vehicle particulate matter emissions are non-exhaust, such as from tyre and brake pad erosion – tyres are the single biggest cause of microplastic pollution in UK waterways. Innovative design, alternative tyre material and
on-vehicle sensor technology will therefore provide routes to more sustainable vehicles.

Positioning the UK at the forefront of aviation (point six), meanwhile, will require development of electric and hybrid propulsion systems that are light enough to be usable, including safe, high energy density batteries, and high efficiency motors and generators.

Alongside reducing service emissions, the full-life impact of materials must also be considered. For new and existing systems, airframes and fittings, lightweight and more sustainable materials are needed that overcome challenges around integrity, reliability and operation in challenging aerospace environments, such as temperature, altitude and fluid exposure.

With technology dependent upon critical materials such as rare earth magnets or cobalt and lithium in batteries, ethical and responsible sourcing combined with full-life effective management is imperative. Appropriate repair, inspection, reprocessing and recycling technologies will be important to extend the life of materials and components keeping them at their highest value for as long as possible and enabling retention of precious materials within the UK economy.

Building better

To deliver greener buildings (point seven), the vital role of materials ranges from enabling energy savings and emissions reductions, such as through replacing refrigerants and difficult-to-recycle lightbulbs, to tackling embodied carbon emissions.
With 50% of resource extraction linked to construction in the EU, a whole lifecycle, cross value chain approach to making more sustainable choices is required that considers factors such as performance, circumstance, durability, and health and safety.

Materials, technologies and processes that are more compatible with and support a more circular economy will be critical for greener buildings, including reducing waste, promoting local and/or renewable sourcing, and using recycled content.

A materials strategy

This discussion around the role of materials and resources is new to climate policymakers, as shown by its relative absence from the pacts and agreements at Glasgow. However, following pressure from IOM3 and others, it was good to see the need for a national strategy on critical raw materials (CRMs) acknowledged in the UK Government's recent Net Zero Strategy and we look forward to engaging with that discussion this year.

Generally, CRMs are understood to be metals and other naturally occurring materials that are vital to the manufacture of various items important either to current needs or to the transition to a low-carbon world, and that for one reason or another, are in limited or potentially limited supply.

A CRM strategy must not only consider national security, but also the environmental, social and economic issues associated with the supply of many of these materials, such as those set out in the recent Circular Economy Task Force report, Critical point: securing the raw materials needed for the UK's green transition, published by the Green Alliance.

Developing a proper picture of the issues around CRMs is a good start, but a wider consideration of materials and resources is needed by government policymakers, which goes well beyond that. This is why – again, alongside the Henry Royce Institute and others – IOM3 is calling on the UK Government to commit to producing a national materials strategy. The extraction and conversion of materials to goods and services underpins our economy and our society, and needs to be considered holistically if the UK is going to remain competitive, innovative and wealthy.

There is the start of an acknowledgement of this – the UK Government's Innovation Strategy identified advanced materials and manufacturing as one of the seven strategic technologies for the UK. And across the regions of the UK, there are centres of excellence in various material technologies and a surprising geological richness that could be better used to provide some of the needed raw materials.

Together, these areas, with focused and targeted intervention, have the potential to generate thousands of high-skilled,
well-paid jobs and contribute to the levelling up agenda.

However, at the moment, activity is too uncoordinated and uneven to deliver the kind of accelerated and focused
A UK materials strategy would bring a structure and focus to materials sourcing, research, development, testing and regulation to ensure maximum benefit to the UK economy and society."developments needed. The entire materials supply chain needs to be considered, from raw material extraction and processing to end-of-life, to maximise the benefit to the UK economy. There needs to be a shift from the current approach, which assumes that materials challenges will be largely overcome by the end use sectors, to a more strategic and holistic view of our future needs. Key enablers need to be nurtured, including:

• Processing and manufacturing capability – to transform materials into economically viable and useable products.
• Design expertise – to identify, deploy and integrate material technology prior to manufacturing.
• Future skills – in resource extraction, material science, design and manufacture to enable the above.
• Appropriate regulatory and standards environment – to allow and encourage the safe, secure, timely and transparent use of new materials technologies.

A UK materials strategy would bring a structure and focus to materials sourcing, research, development, testing and regulation to ensure maximum benefit to the UK economy and society. It would help the UK to develop its materials processing industry so that it can capture as much value for its own economy as possible and compete more successfully in global markets.

Such a strategy would need to be owned and driven by the UK and devolved governments. However, IOM3 strongly considers that bringing together key players from the materials, minerals and mining sector into some kind of leadership forum is an essential part of such a strategy. This forum is needed to provide leadership across industry and academia, irrespective of traditional silos, and with a strong emphasis on addressing the needs of the UK now and in the future. It should be set up as soon as possible so it can contribute to both the formulation and the implementation of a materials strategy.

For some policymakers, the importance of materials and resources to addressing the societal challenges we face – the climate and biodiversity crises, healthy ageing, global competition, and so on – may be little understood. But as professionals in materials, minerals and mining, we all know how vital this is, so it is right that IOM3 as a body, and its members as individuals, should continue to make the case wherever they can for this to be considered. We need a holistic strategy, and we need it soon.

You can view the Institute's series of events for its 2021 Sustainable Future week on-demand here. IOM3 will be hosting an event on Friday 11 March 2022 entitled 'COP26 & beyond…the pathway to Net Zero'. Find out more here.