Making the grade
Researchers from Nextek and Brunel University, UK, collaborate on a project that aims to close the loop on food-grade polypropylene via new sorting and decontamination processes.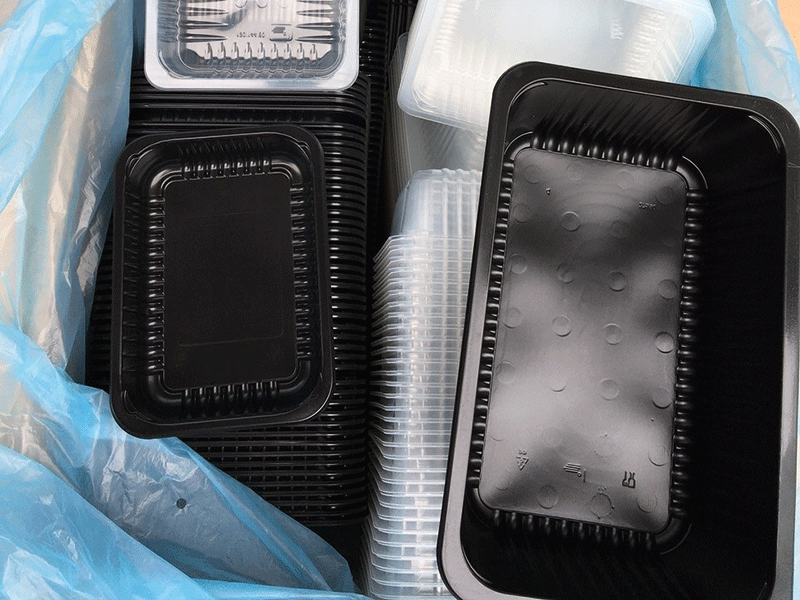 This article was written by Professor Edward Kosior FIMMM, Dr Jon Mitchell, Dr Martin Kay from Nextek, UK, and Dr George Fern at Brunel University London, UK.

The direct impact of waste management sits at the heart of climate change. Global waste currently generates over 1.3Bt of CO2e. More than half of possible CO2e savings from waste will come from increased recycling rates and increased recycled content. A report by the PEW Charitable Trust, Breaking the Plastic Wave, has estimated that by significantly improving waste collection, sorting and recycling we can reduce global greenhouse gas (GHG) emissions by between 2.1-2.8Bt of CO2e per year compared with 'business as usual'.
However, we can only minimise our waste once we actively start unlocking the value in these materials. Realistically, we cannot eliminate plastic from the supply chain, and even if we did, that would not solve the world's climate crisis. Quite the contrary.
According to the US Environment Protection Agency and their Waste Reduction Model (WARM), if all the 37.4Mt of single-family recyclables were put back to productive use instead of lost to disposal, it would reduce US GHG emissions by 96Mt of CO2e. It would also conserve an annual energy equivalent of 154MMbbl of oil and achieve the equivalent of taking more than 20 million cars off US highways – not to mention generating an estimated 370,000 full-time equivalent jobs. And that is just in the US, where the rate of plastics recycling is low – falling between 5-6% in 2021, according to the 15th version of WARM.
There is no one solution to claw back our waste or reduce our carbon footprint. As such, we urgently need to combine high-impact solutions from numerous different pathways. We need to boost adoption of simple and sound recycling practices, expanding waste collection, recovering recyclables from waste and ensuring that final disposal processes prevent plastic leakage.
One possible approach is mechanical recycling when used in combination with cutting-edge sorting and decontamination.
Food-grade fractions
The European Food Safety Association (EFSA) and the US Food and Drug Administration (FDA) require that all of the feedstock for recycling come from food-grade resins and that the levels of post-consumer plastic packaging that was previously used for food is at least, or greater than, 95%. As it stands, material recovery facilities (MRFs) and plastic recycling facilities (PRF) are only sorting materials by polymer type and colour. Sorting of food-grade materials from non-food-grade materials is only being performed by hand, and is an expensive, labour-intensive and time-consuming process. New technologies have been developed, however, to sort an extended range of categories by machine-based systems. These include the use of fluorescent markers, digital watermarks and artificial intelligence to sort by shape.
We cannot afford to stop short at the various innovative technologies for sorting post-consumer plastic waste. Sorting post-consumer packaging is a key component of mechanical recycling and those in the recycling sector are keen to adopt an effective system to identify characteristics such as food-grade or non-food-grade besides the actual polymer, to enable the products to be recycled back into high-value markets.
This not only creates the end destination for the recycled materials but also reduces the demand for fossil-based plastics and reverses the concept that these materials are low-value and can simply be discarded and replaced by virgin resources.
It is important that this step is integrated into the already established recycling industry infrastructure that is sorting significant volumes of material.
Sorting is not enough
We also need to consider that sorting alone will not solve our recycling challenges. It is only the first part of the whole process. We need to go beyond accurately sorting waste to minimising and reducing current waste levels.
In addition to any recycling initiatives, it is equally important to reduce the volume of single-use plastics and therefore the volume of fossil-based virgin plastics that are being manufactured to better focus on the circularity of plastic materials for important functionality, rather than low cost and disposal.
Ultimately, and regardless of how waste is identified and sorted, the world will still end up with a pile of well-sorted plastic that is of low value unless it can be properly reused, and this requires cutting-edge washing, extrusion, filtration and decontamination. This is all the more relevant for polyolefins, such as low-density polyethylene (LDPE), high-density polyethylene (HDPE) and polypropylene (PP), which are non-polar and are relatively permeable to smaller molecules absorbing potential contaminants more readily.
In October 2020, Professor Edward Kosior, founder of Nextek, launched NEXTLOOPP – a project to close the loop on food-grade PP.
The project was based on the foundation of earlier research work that had two pillars:
The use of fluorescent markers to separate food packaging from non-food packaging. This uses labels that have one layer of ink which contains a marker with specific wavelength emission, when illuminated under ultra-violet light at 365nm. This emission is coupled with the near-infrared (NIR) spectroscopy response of the polymer to uniquely identify and eject the packaging item. This allows a wide range of products to be uniquely separated from a mixed stream of packaging items.
A recycling methodology that can extract volatile and semi-volatile compounds from PP. This is done by a two-step process. The first decontamination step is during a high-temperature extrusion stage under high vacuum for an extended residence time (minutes). This is followed by a second stage of decontamination through exposure to vacuum in the solid state for a much longer period (hours).
Using this technology, we have completed the EFSA and FDA challenge tests, which require deliberate contamination of the plastic material to higher levels than that typically found in the post-consumer stream. Measuring the rate of decontamination proves the process can strip out any migratable materials to ensure safety in food contact applications.
This raises the important topic of characterising the residues in post-consumer packaging that have been sorted into mono-polymer fractions. This is done by analysing and testing multiple batches of food/non-food samples to see what molecules are present and if there are any areas of concern.
This background level of post-consumer product residues is important as it defines the molecules that will be removed by the decontamination process and the residual levels that could potentially migrate into food. Much more effort needs to be dedicated to these investigations as they will define the final compliance with food contact regulations.
It is estimated that by significantly improving waste collection, sorting and recycling, global greenhouse gas emissions can be reduced by between 2.1-2.8Bt of CO2e per year compared with 'business as usual'.
Source: The PEW Charitable Trust

Sorting it out
Back to the topic of sorting, we appear to be facing a dilemma that centres around which sorting technology the world should adopt.
On the one hand we have invisibly coded labels with high performing luminescent compounds that are readily detected using existing high-speed automatic sorting equipment. This system is complementary to existing NIR technologies. On the other hand, we have digital watermarks that cover the surface of consumer goods and require a high-resolution camera to be installed on the sorting line.
The fluorescent solution – PolyPRISM – used in this project is an effective, plug-and-play ready, cost-effective technology that requires minimal retrofitting.
Making a mark
NEXTLOOPP member, Brunel University in London, UK, has been exploring different types of fluorescent markers that are suitable for commercial use and is currently developing a second generation of fluorescent markers using metal-free luminescent materials.
These new materials promise high quantum yields at low financial cost and Brunel University has already demonstrated that they can be readily incorporated into commercial ink vehicles, including flexographic inks as a drop-in replacement to existing fluorescent materials.
Their early testing shows that these markers can be printed onto labels and have been successfully sorted using Nextek's sorting technology.
Ultimately tomorrow's sorting has to deliver high purity and high yield at full speed, which was demonstrated in September 2021 at NEXTLOOPP's trials held at TOMRA in Germany.
The trials involved taking brand owners' products and applying labels that included the unique fluorescent markers. These packs were also mixed with non-food PP packaging to provide a realistic challenge to the sorting process. The line speed was at 2.5m/s and at the loading of 2t/m belt width, which represents high-speed commercial sorting rates.
The abillity of PolyPRISM to specifically sort food-grade plastic packaging waste, with 99.9% sorting purity at maximum production speed, meets the standards required by the Food Standards Authorities in the UK and EU.
As trials continue to reduce the pigment levels required, while still achieving a high sort purity and yield of food-grade PP packaging from non-food-grade PP packaging, fluorescent markers are increasingly proving to deliver superior sorting potential.
Being able to identify and sort any number of pack variants, from bleach bottles to milk bottles, in any plastic type could transform the way we recycle the prolific volume of single-use post-consumer food packaging waste back into circular applications.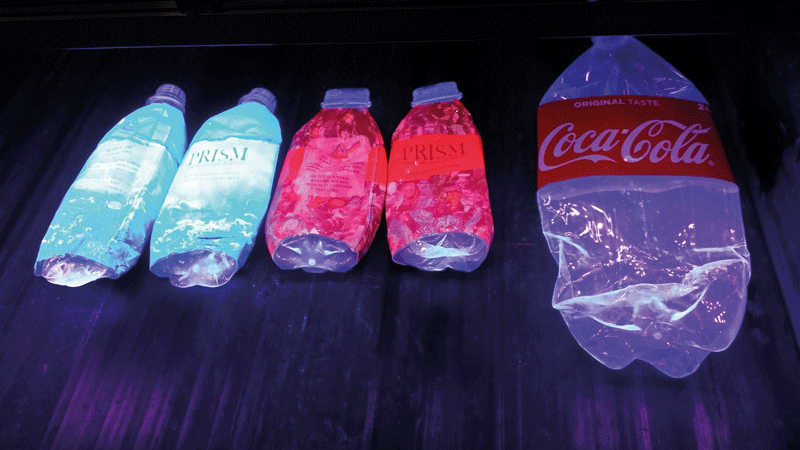 On trial
NEXTLOOPP is now progressing through the important stage of 46 participants (including RECOUP, Unilever and Danone, among others) trialling the prototype resins in injection moulding and extrusion manufacturing as replacements for virgin PP resins.
Ultimately, recyclers want mono-polymer plastics for recycling that are free from contamination, which is why PolyPRISM markers are added as inks to the labels rather than to the polymer. Furthermore, the technology can be implemented using existing labelling and decoration techniques, with purpose-designed labels that boost detection and are readily released and removed in the washing stages of the recycling process.
These intelligent labels offer the potential to sort a range of targeted recycled materials such as food-grade PP, HDPE and PET packaging at high speed and to high purity as our trials demonstrated.
Unlocking the full value of plastic materials will go a long way towards helping organisations honour their commitment to increase the level of recycled material they use in their packaging – better still, a coherent recycling strategy will have enormous impact on reducing post-consumer waste.
If we take PP alone as an example, recycling 63,000t of PP per year would save a minimum estimated 105,600t in CO2 emissions in the UK per annum. This brings us back to our original point that mechanical recycling, if properly boosted, has the potential to make a fundamental impact on reducing our CO2e and our plastic pollution.