IOM3 responds to Spring Budget 2023
The Chancellor Jeremy Hunt has outlined the Government's plans to halve inflation, grow the economy and get debt falling.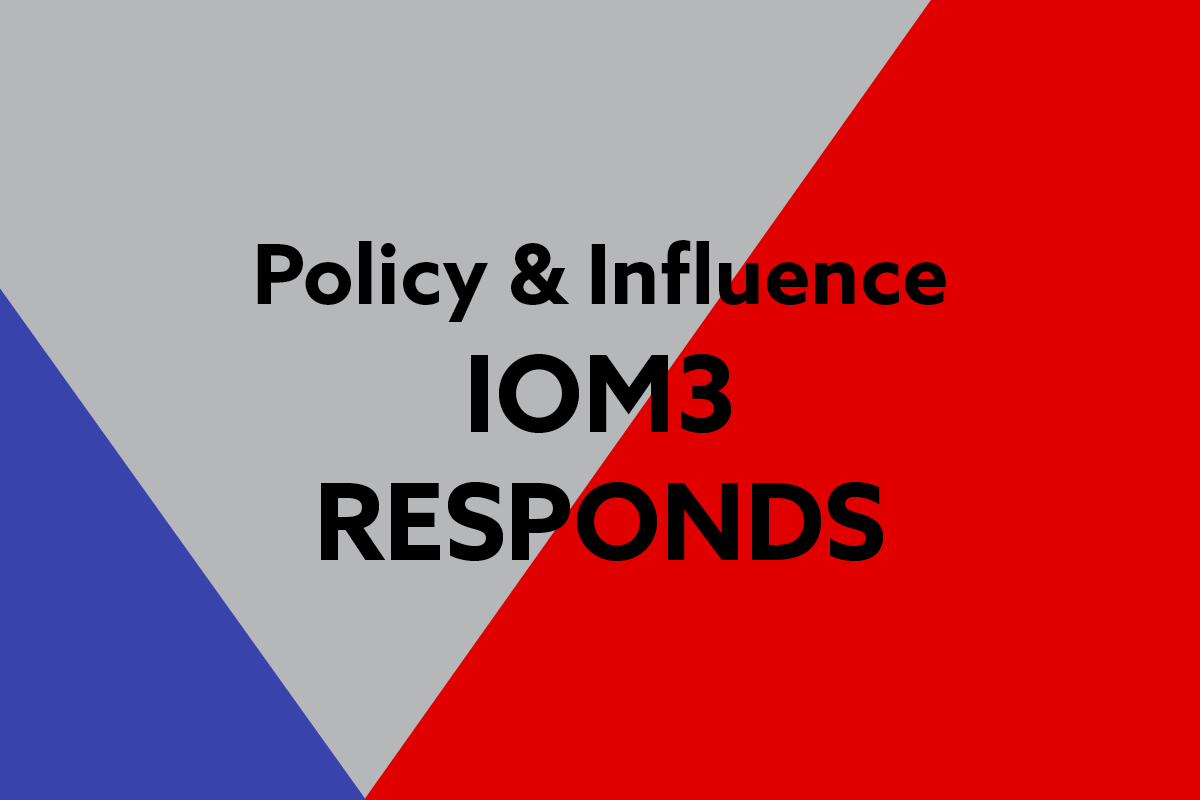 The Spring Budget centred around four priorities: Employment, Education, Enterprise and Everywhere. UK government has committed to supporting growth and includes commitments to support five 'sectors of the future': green industries, digital technologies, life sciences, creative industries and advanced manufacturing.
IOM3 CEO Dr Colin Church FIMMM CEnv said, 'Recognition that the 'transition to net-zero is essential to long-term prosperity' is welcome, and it is good to see a continued positioning of the important role research, development and innovation play for the economy and society, including reiteration of government's ambition for the UK to be a science and technology superpower'.
'Confirmation of the pre-announced funding for carbon capture utilisation and storage and nuclear energy commitments are welcome, with the potential to support industries critical to the transition. Nonetheless, little detail is provided in the document, and it is vital these commitments are part of a wider, holistic strategy to ensure the transition to net-zero is realised at the pace required'.
Matters relevant to IOM3 members' work announced in the budget include the following:
Enterprise: Green Industries
Launch of Great British Nuclear (GBN)

First staged competition for small modular reactors and commitment to co-funding if demonstrated to be viable
Further large gigawatt-scale projects will also be considered
Nuclear energy will be included in the green taxonomy, subject to consultation
Twoyear extension of the Climate Change Agreement scheme
Up to £20bln funding for early deployment of Carbon Capture, Usage and Storage (CCUS)
Increased rate of relief for loss-making R&D intensive small and medium size enterprises (SMEs).
Enterprise: Digital Technologies
£2.5bln quantum research and innovation programme investment over ten years
Government will invest, subject to the usual business case processes, in the region of £900m to build an exascale supercomputer and to establish a new AI Research Resource
£100m funding for the Innovation Accelerators programme to 26 transformative R&D projects
Enterprise: Advanced Manufacturing
The budget states further policy announcements will follow once the review recommendations have been considered
Enterprise
Introduction of full expensing for three years from 1 April 2023. During this period, companies across the UK will be able to write off the full cost of qualifying plant and machinery investment in the year they invest
Everywhere
Investment Zones programme with 12 clusters across the UK. Each English Zone to receive a package of £80m over five years in tax reliefs and grant funding
£8.8bln for a second round of City Region Sustainable Transport Settlements for English city regions
Education and Employment
Returnerships: accelerated apprenticeships, Sector-Based Work Academy Programme placements and Skills Bootcamps for over-50s, supported by £63m of additional funding
Defence
An extra £4.95bln for defence over 2023-24 and 2024-25
Government will set out further action later this month to 'ensure energy security in the UK and meet our net zero commitments', with both the updated Net Zero Strategy and response to Chris Skidmore's Net Zero Review expected.