IOM3 remembers Prince Philip, Duke of Edinburgh HonFIMMM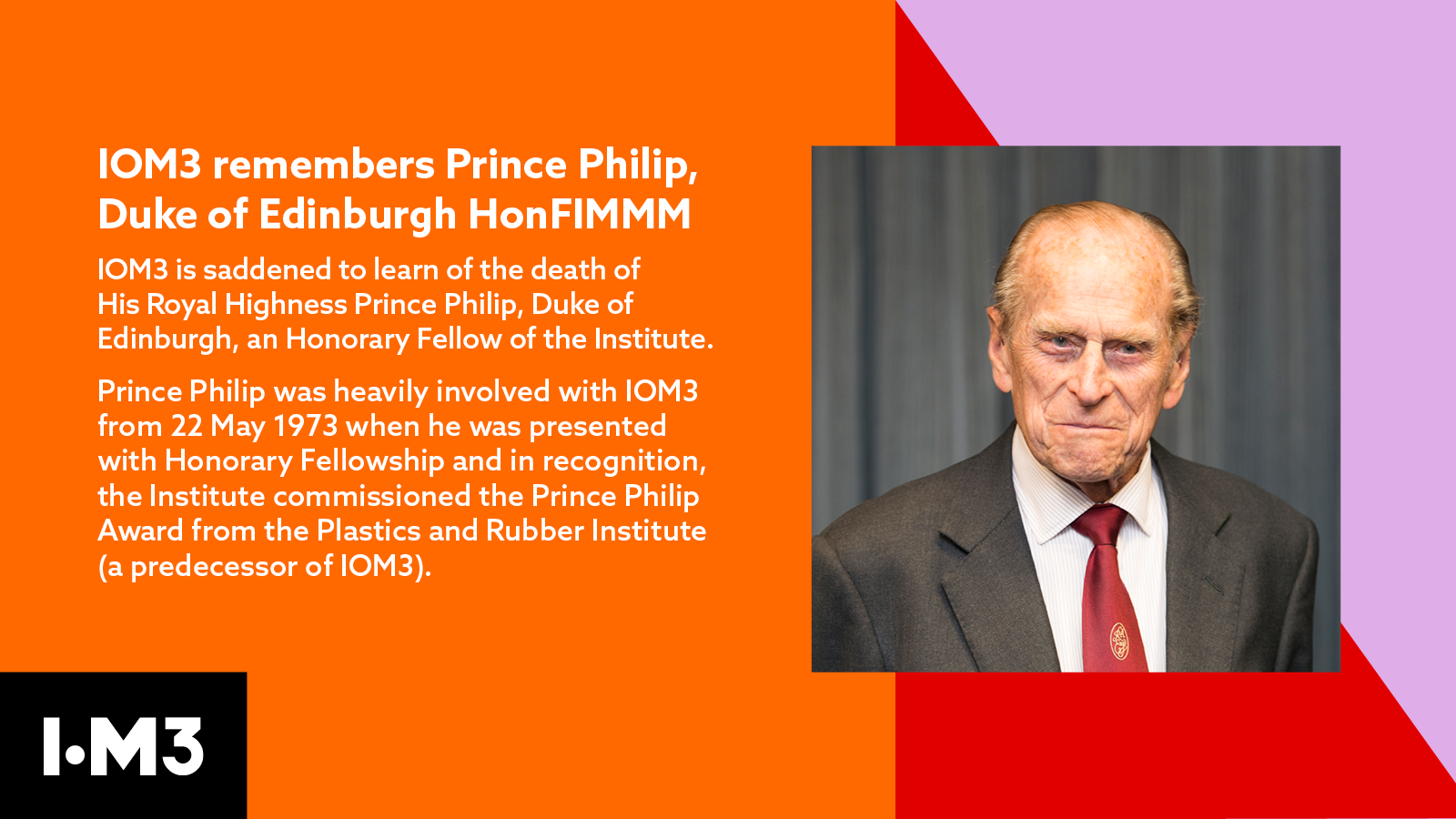 Prince Philip was an advocate for engineering and back in 2016 he praised the vital work of engineers, saying that 'everything not invented by God is invented by an engineer.'
IOM3 CEO Colin Church FIMMM CEnv said, 'On behalf of the Trustees, members and employees of IOM3, I express our sincere condolences to Her Majesty the Queen, our Royal Patron, and her family, on the sad occasion of the passing of Prince Philip. The Institute was privileged to have hosted the Prince several times and his passion for engineering, science and technology was always an inspiration to all.'
IOM3 Prince Philip Award
Prince Philip was heavily involved with IOM3 from 22 May 1973 when he was presented with Honorary Fellowship and in recognition, the Institute commissioned the Prince Philip Award from the Plastics Institute (PI) a predecessor of the Plastics and Rubber Institute.
The Prince Philip Award, an IOM3 Premier Award, is presented for polymers in the service of mankind. Awarded not more than once every two years, not less than once every five years, it is open to all companies, partnerships, associations, societies, academic institutions and only in special circumstances to an exceptional individual. Typical areas that could be included for this award cover the use of polymers in medical applications, civil engineering or disaster relief.
It was last awarded in 2019 and presented by the Duke of Kent at our 150th Premier Awards and Gala Dinner in the absence of Prince Philip.
Bessemer Gold Medal
The Prince was presented with the Bessemer Gold Medal in 2015 when IOM3 President Professor Jonathan Binner CEng FIMMM and past-President Jan Lewis CEng CEnv FIMMM attended Buckingham Palace to present the award and the Bessemer book 'Sir Henry Bessemer: father of the steel industry' by Colin Bodsworth, 1998.
His involvement with IOM3 and engineering
Prince Phillip has attended IOM3 on a number of occasions including awards presentations in 2012 and in 2015 to mark the opening of IOM3 headquarters (297 Euston Road, London).
He was also a Senior Fellow of the Royal Academy of Engineering and in 1965, His Royal Highness became President of the Council of Engineering Institutions (CEI), which was then formed of 12 professional engineering institutions including The Institution of Mining Engineers and The Institution of Mining and Metallurgy (IOM3 Predecessors).
Tales of the Duke and his involvement within the Institute as told by Jack Harris in 2006 (Materials World) can be found at bit.ly/2Rd9nAC
Past winners of the Prince Philip Award are available at www.iom3.org/award/prince-philip-award-1.html
Our condolences to Her Majesty the Queen and the family during this sad time.
Media information:
Natalie Daniels
Head of Communications
0207 451 7349