IOM3 presents Polymer Group Award at GRIPS 2022
Congratulations to Jo Cooper, a student from Brighton University, UK, for winning this year's IOM3 Polymer Awards at the Global Research & Innovation in Plastics Sustainability (GRIPS) conference.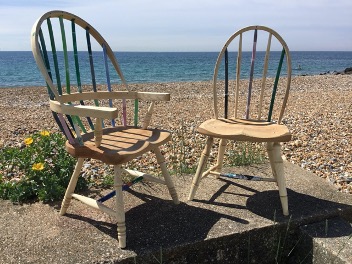 This award celebrates making disruptive innovations that will have a positive impact on polymer and elastomer sustainability. The posters were reviewed by an expert panel at the event and presented on the closing day.
On winning the award, Jo said, 'I am delighted to receive the IOM3 Polymer Group Poster Award 2022. I am really pleased that all the hard work that I put into making my chairs and final display posters during the most challenging COVID time has been recognised. Sustainability and craft heritage are at the heart of my ideology.
I am excited to be able to continue my research, develop contacts and intend to expand my workshop with more environmentally friendly equipment and materials so that I can continue with my next range of furniture.'
David Hughes CEng MIMMM, Chair of IOM3 Polymer Group said, 'IOM3 and its Polymer Group is committed to promoting and profiling innovation around plastics sustainability. The competition displays some of the best cross-disciplinary research and innovation in the field. Jo Cooper who won the 2022 award showed how the creative sectors can embed sustainable design principles to create what she brilliantly called 'emotionally durable design.'
You can view the winning poster below.