IOM3 member magazine Materials World turns 30
We can't believe it either, but 2023 marks 30 years of Materials World being in print.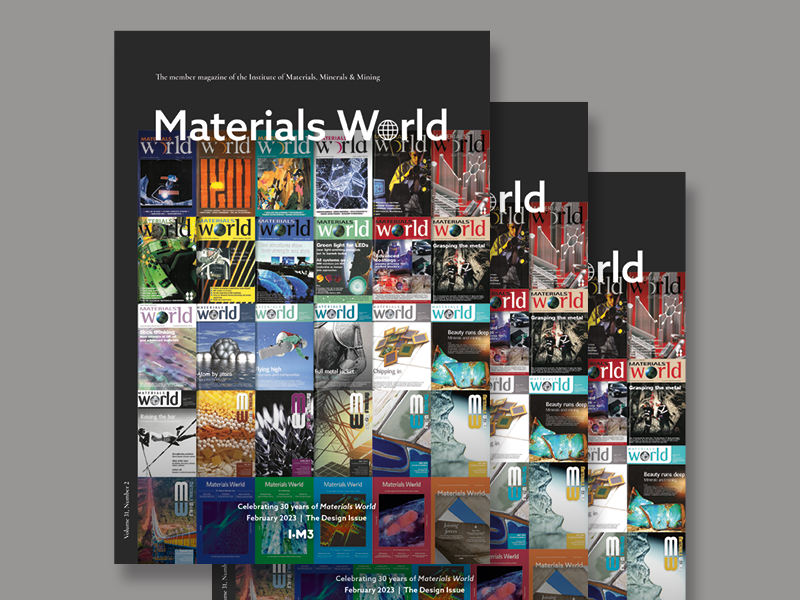 Materials World is the flagship IOM3 members' magazine, specifically devoted to the engineering materials cycle, from mining and extraction, through processing and application, to recycling and recovery.
In volume one, issue one, the then President Sir John Collyear HonFIMMM of the Institute of Materials opened the magazine saying, 'We must be diligent in promoting the interests of the profession at every opportunity, and in encouraging young people to take up careers in our subject'. These sentiments couldn't be more true today in moving towards a low-carbon, resilient and resource efficient society.
Rupal Mehta, Magazine Group Editor reflected on how members influence coverage for the better, 'Through the magazine, we strive to support our members' professional development with updates on advanced technologies, developments and applications across the materials cycle. The range of disciplines represented by the IOM3 membership is reflected in the content of our magazine and indeed the selection of previous covers gracing the latest issue's front cover.
With members central to our coverage, they play an active role in collaborating with the in-house team to develop and contribute articles across diverse technical areas as well as on topics touching on professional development and diversity and inclusion. This celebration of 30 years of the publication reflects the breadth of knowledge and effort from our passionate member network and the editorial and design team members over the years'.
As you would expect over 30 years, the thematic focus of Materials World has evolved in line with the increasing demands on our materials cycle. The strength of IOM3 has always been in the breadth of knowledge and experience of members, and nowhere is this more evident than in the pages of Materials World.
Watch out for the March 2023 issue as we travel back to 1993 to see what events led to the formation of the magazine, what articles appeared, and we hear from IOM3 staff who remember it well reflecting on how things have changed over the years.