Getting drastic about plastic
Representatives from industry, government and the not-for-profit sector came together to discuss the next steps for a UN resolution to end plastic pollution. Alex Brinded reports.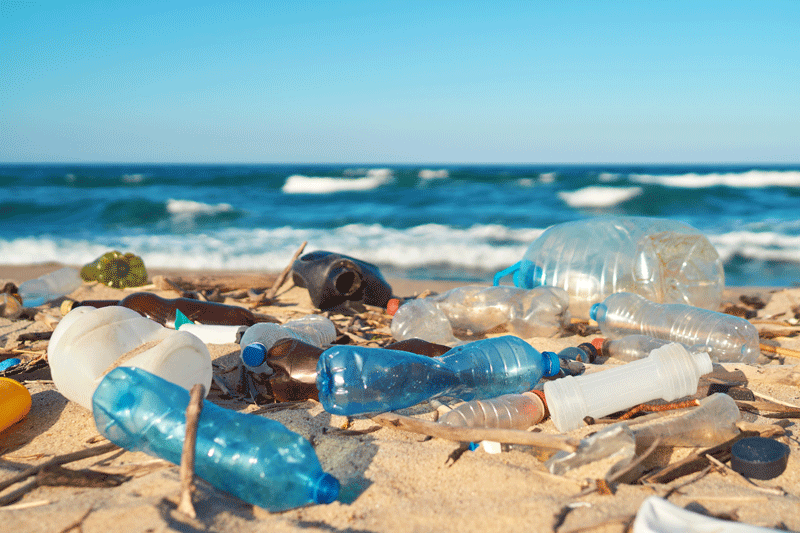 The charity, A Plastic Planet, hosted a webinar in March swiftly following the UN Environment Assembly (UNEA)'s agreement to end plastic pollution in a legally binding way by 2024.
Having been at the UNEA-5.2 meeting in Nairobi, Kenya, Ambassador Peter Thomson, the UN Secretary-General's Special Envoy for the Ocean, was still feeling the fervour of that momentous decree. '…Sitting in the front row was like being at a Premier football game where you just played the most fantastic game of your life. You saw a room of 500 or so very serious international representatives leaping about like children screaming and cheering for about five minutes. It was so spontaneous. It was a moment where we realised that multilateralism works.'
Thomson was energised by the zeal of 'revolution' and issued an impassioned call to arms to plastic producers at the webinar titled, 'UNEA 5.2 – What's next? How does a UN Global Agreement on plastic live up to its promise?'
'Make no mistake, this was an historic moment, and we have the ability now to defeat the plastic plague that has been put upon our planet,' he enthused.
The Rt Hon Lord Zac Goldsmith, UK Minister of State for Pacific and the Environment, highlighted the UK Government's approach. 'We brought in legislation which begins the process of designing the waste system, shifting incentives so that the products we use are designed to last, or be repaired, or be recycled. We are shifting the burden away from consumers towards producers. We are legislating for Extended Producer Responsibility so that those producing waste have to bear the full financial liability for the lifetime cost of their products. We have begun banning single-use plastics.'
On the international stage, he mentioned the UK Government's £500mln New Blue Planet Fund to help countries tackle environmental threats including plastic, the fact that 34 out of 54 members of the Commonwealth are part of the Clean Ocean Alliance, and that the UK is supporting the UN Tide Turns Plastic Challenge.
However, Goldsmith was ready to admit there was more to do and that sustained pressure is influencing government leadership. 'There's no doubt we need to go much, much further and faster. And we need to be much more bullish. I would say we have got our toes in the water – we need to jump in.
'We set the rules and if we are honest about it, those rules do not currently work and place no real value on the natural world, we attach no real cost to pollution and waste.'
Rethinking design and production
Rather than demonising plastic itself, A Plastic Planet Co-Founder, Sian Sutherland, suggested it is the bigger picture of behaviours embodied in the material's use and design itself that need changing. 'Its very invention was the catalyst, the enabler of our ramp up to the current giddy levels of hyper consumption. The one material that broke the system of take, make, repair, refill, reuse to a new model of take, make, use once and waste.'
She was pleased that the UN treaty will focus on plastics' lifecycle, 'The power is with industry to reinvent how we use materials, to introduce new systems that no longer take [the planet's resource] giving back billions of tonnes of waste.'
Steven Fletcher, Professor of Ocean Policy and Economy at the University of Portsmouth, UK, added, 'Policies are definitively more effective when they are applied across the full lifecycle of plastics and take account of the system into which they are being placed. I guess we have all seen on many occasions isolated policies being placed into systems that don't support those policies.'
David Azoulay, Director of Environmental Health at the Centre for International Environmental Law, is optimistic that the treaty will deliver as 'it was clarified in the mandate that a financial mechanism must be put in place specifically to support the implementation of the treaty'.
Business backs bold moves
Ed Shepherd, Senior Global Sustainability Manager at Unilever, wants the momentum to continue. 'As a business we see the treaty as an enabler of progress. Unilever, alongside others in industry, has a number of different commitments to tackle plastic pollution. And it is clear that many of the barriers within those commitments can be overcome through a harmonised global instrument like the treaty.'
He had one clear demand, 'Quite simply, we are not going to achieve the promise of this instrument if virgin plastic production continues unchecked.'
Shepherd wanted progress from industry voluntary initiatives to be built on. 'In many places industry is already working towards common targets and definitions and standards, and this is an opportunity to harmonise those
and create a level playing.'
In answer to a question on how Unilever would reorganise their supply chain, Shepherd said, 'The big group of consumer goods companies, and increasingly retailers, are sending those signals that we want to adapt and shift the system that is currently there. And so we have been working with the supply chain for a number of years already on these topics and how do we actually reduce our plastic pollution, but we would see the treaty as an opportunity to raise the political pressure on the whole system, which will support that transition.'
Stuart Lendrum, Head of Packaging, Quality & Food Safety at UK food retailer Iceland, was specific about what should change on a national level. 'We have got to address export plastic waste. We all know that, when you export plastic waste, it often becomes someone else's plastic production.
'[And] we need to get to a place of sustainable consumption of plastic. It's not enough to make plastic recyclable or to say that it is reusable, we have got to address sustainable consumption and that means we don't need more plastic.'
First mover disadvantage?
Self-employed environmental consultant, Iain Ferguson FIMMM, former Environment Manager at UK food retailer Co-op, is positive about the progress. 'In the UK, we are in a much better position than when I started my career in retail over 30 years ago. We have moved from landfilling, incinerating and not a huge amount of reusing, to widespread collection, recycling of waste electrical equipment, batteries and all the major packaging formats. Some of this work has been led by national government, but much of the work on packaging has been the result of work by retailers and major brands with input from the waste management sector and local government.'
He also supported domestic processing. 'We need to work towards dealing with our recycling here in the UK and not shipping it overseas, where the governance is likely to be much poorer. And that is actually promoted by our system at the moment with an advantage for exporting material of up to 50%.'
Lendrum felt there were some clear wins, 'We need to establish common communication systems…The last time I looked at this, there were more than 30 ways of communicating recycling from local authorities with the residents, which is just ridiculous.'
Helen Bird, of the UK Waste and Resources Action Programme (WRAP), shared some insights from their recent research. 'We throw away £2.7bln worth of fruit and vegetables every year in the UK, majority of that can be eaten. And we are throwing it away actually because it is wrapped in plastic, and we are buying too much, and the plastic is not helping as much as we thought in protecting the food.
'Focusing on 24 products that we have identified as a priority, we can actually save ourselves 22,500t of plastic – equivalent to 70,000t – and that's just the carbon associated with the plastic, not the food waste that we would save.
'If the packaging is not required for functionality, it should not be used at all. The problem, of course, is that this is commercially challenging for business. There is not always first mover advantage, in fact, quite the opposite.'