Packaging Innovations & Empack 2022
IOM3 will be again supporting Packaging Innovations & Empack at the NEC in Birmingham on 25–26 May 2022. Come and visit us on stand K46.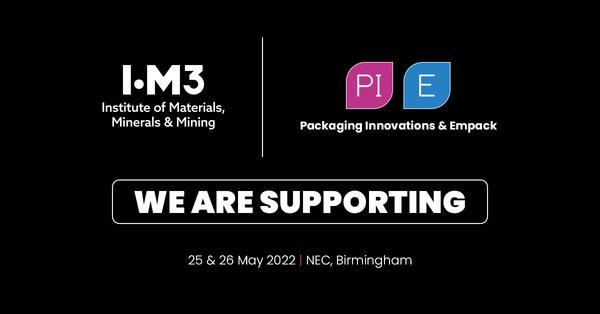 IOM3 Panel Discussion
IOM3 will be hosting a panel discussion on 'Future Packaging Materials' hosted by Jude Allan MIMMM, IOM3 Packaging Group Chair. What does the future of packaging materials look like in 30 years' time as we move to a more sustainable future? What will the packaging material demand look like in 2050, what infrastructure do we need and how do we make the transition? All big questions that our expert panel will be discussing. We will be hosting the panel discussion on 25 May (day one), so make sure you come along to see our host of experts. Our panellists will be on hand to answer your questions. More information on the panel will be announced soon.
What is at Packaging Innovations Birmingham?
Packaging Innovations is the largest annual event connecting packaging specifiers and buyers with the suppliers, new materials and formats and the expert knowledge to create the future of their brand's packaging.
Empack provides a unique platform for directors of packing and filling operations to solve their manufacturing challenges and understand the key trends and technologies that will define their future investments.
Together, these two events give a unique vision of the whole packaging journey, from concept to production.
Industry sectors include:
Contract pack & fulfilment
Personal care and beauty
Food & drink
Household
Pharmaceutical & chemical
Label & printing
What to expect to see at this year's event?
Free-to-attend seminars
Innovation showcase
Ecopack challenge
Sustainability trail
Networking