Oilfield metallurgy is a specialist sector involved in understanding the requirements and performance of materials used in the challenging environments of the oil and gas sector. This course provides an improved understanding of material specification and selection for the oilfield environment. The knowledge gained from the course will enhance discussions between customers and suppliers and gives a better understanding of the properties of materials and their influence on oil-tool component design.
The course is aimed at personnel who work in engineering, production and design and who manufacture or supply engineering components. This includes buyers and salespersons. It will also be a useful introduction to the subject for new starters and graduate engineers.
The course will be run over two three-hour virtual sessions from 1000-1300.
It will cover:
Introduction to the oilfield environment:
What are oil and gas?
How do they affect materials?
What are the special features of oilfield metallurgy?
API Material classes
NACE MR0175/ ISO 15156
Basic Metallurgy and Materials Science:
Metallurgy and properties of low alloy steels
Hardenability of oil tool materials
Effect of alloying elements
Heat treatment
Weldability of oil tool materials
Factors affecting material selection
Corrosion Resistant Alloys (CRA):
Stainless steels
Nickel alloys
Material selection of CRA s
API 6A CRA
Specifications:
API 6A, API 17D, NACE standards etc.
How to use them and what are their key features
How do they affect material selection and fabrication?
Corrosion and Material Properties:
Why is oil/gas corrosive?
Sweet and Sour environments
Typical corrosion problems
Stress corrosion cracking
Sour Service
NACE MR0175
ISO 15156
Material selection and sour service
Effect on welding
By the end of the course what will I have learnt?
Understand the oilfield environment and its effects on material selection
Appreciate heat treatment and alloying requirements of oil tool components
Show how common oiltool standards affect material processing and fabrication
Gain a better understanding of material properties and their influence on oiltool design.
The cost of the course is £495, plus VAT at 20% where applicable. IOM3
members
and subscribers to Mour
Business Partner Programme
are entitled to a discount of 10% on the course fee.
---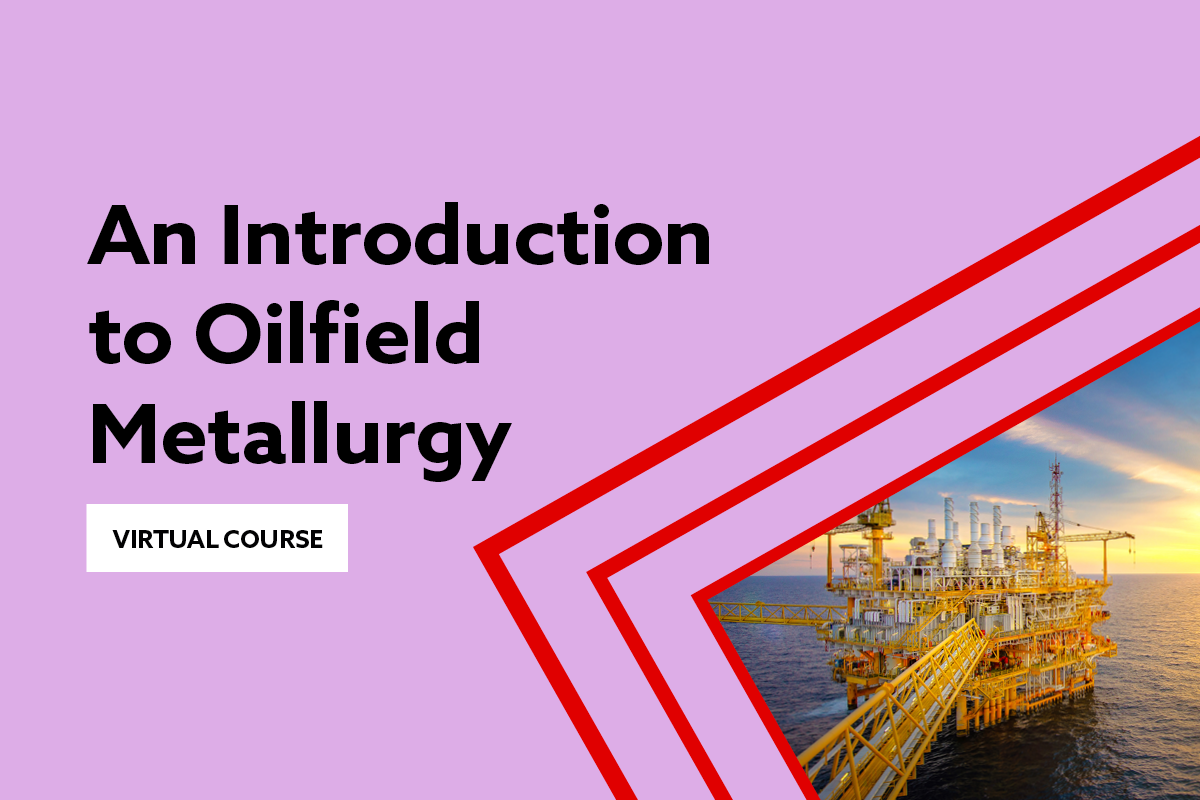 Register now to attend the virtual course on Tuesday 06 & Wednesday 07 June 2023 via Zoom
---