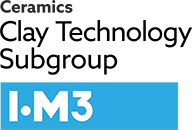 ​
The mission of the Clay Technology subgroup is to promote heavy clay technology on a UK and international basis and to provide members with opportunities to broaden their professional outlook, skills and qualifications, thus enabling them to face change with greater confidence and thereby help secure a dynamic future for the heavy clay industry.
The Clay Technology subgroup was formerly known as ICTa, which was founded in 2006 following the merger of the Institute of Clay Technology and the Institute of Materials, Minerals and Mining. Our key activities include the organisation of the Claytech UK conference which has been running since 2002, plus the development of technical courses for the benefit of all in the industry, from new starters to experienced employees.
The Clay Technology subgroup aims to continually improve the provision of courses and to provide technical meetings, events, education and training and local networking opportunities through local societies to the industry.
We are here as a resource to help you further your career, from networking to supporting you to improve your technical skills and knowledge.
Meet the Clay Technology Subgroup Committee: