Nuclear and Renewables Materials Challenges: Response to UK Government Green Industrial Revolution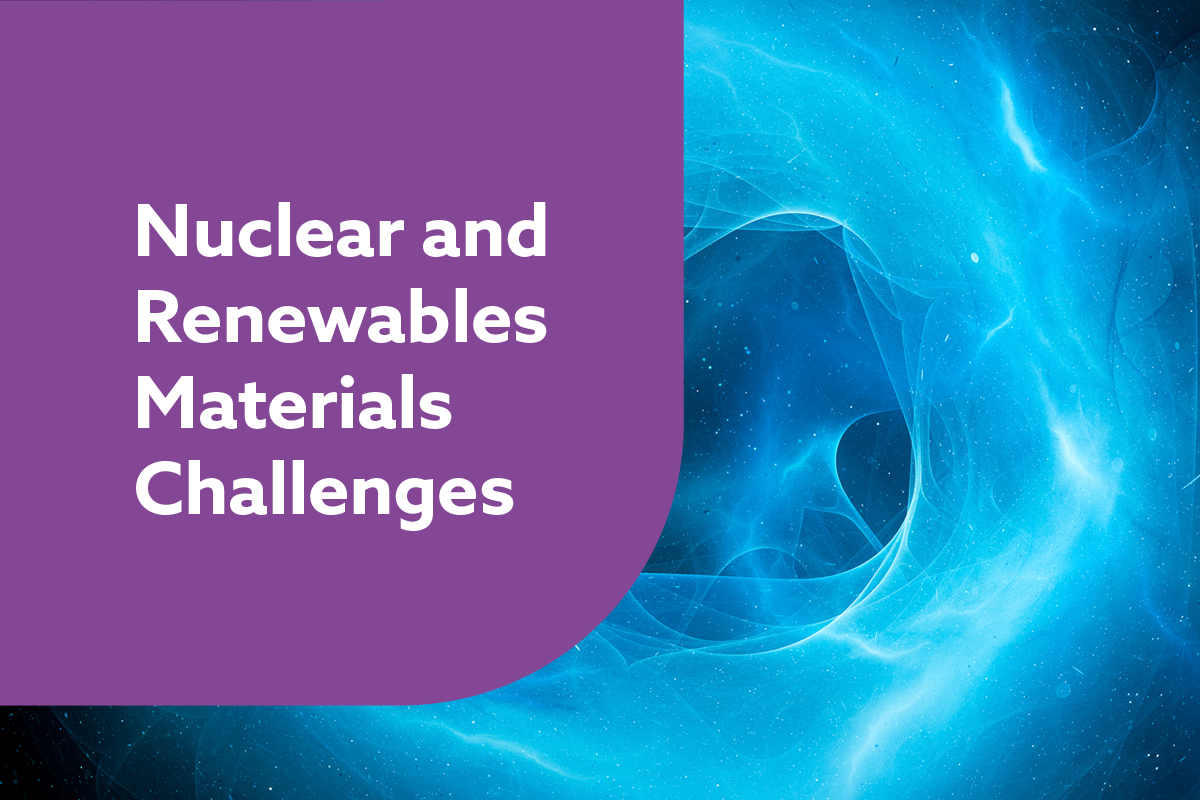 The UK Government has realised a 10-point plan for a Green Industrial Revolution to address net zero by 2050s. Key to this goal is accelerated use of solar, wind and renewed efforts in nuclear. This comes at a time of anticipated significant increase in electrical power demands. To realise these goals a host of new technological developments will be required and at the core of this are the materials and their operation in challenging environments.

This seminar will bring 4 expert speakers from different backgrounds: Wind, Solar, Nuclear and an overview of the energy mix. We will present the materials challenges for these energy sectors and host an extended panel review to identify key cross over technologies and prospects to maximise cross sector opportunities within the Green Industrial Revolution.
You will hear from

Overview: UK Government 10 Point Plant
Matthew Billson, BEIS

In November 2020, the Government published its 10 Point Plan for a Green Industrial Revolution, followed by the Energy White Paper in December 2020. Matthew will highlight key areas of those, in particular the role the new £1bn Net Zero Innovation Portfolio and £385m Advanced Nuclear Fund will play in the journey to Net Zero.
How to assess Wind Turbine Lifetime beyond the Certification
Thomas Crowden, RWE Renewables GmbH
This presentation will highlight assessment in advance of the expected site specfic lifetime to plan beyond the certified lifetime.
Solar energy becomes mainstream source of power generation in the UK
Stuart Irvine, Swansea University
Solar energy generation accounts for 12% of UK power generation based on an installed capacity of 14 GW in 2020. Over the next decade, the Solar Trade Association (STA), is predicting that solar will grow to a capacity of 40 GW to keep the UK on track for net-zero by 2050. Over 90% of the photovoltaic (PV) modules being manufactured are crystalline silicon. A surge in the manufacturing capacity of thin film PV, based improved efficiency and lower cost, provides the opportunity for faster roll-out and at a lower cost and lower carbon footprint in manufacture. The key materials innovations that are making this possible will be outlined in the talk.
Materials challenges in the nuclear sector: what do these mean for nuclear energy's role in the UK in 2050?
Dr Dame Sue Ions, Univerity of Central Lancashire
The Nuclear Sector forms a critical industry for the UK, delivering 18% of the nation's electricity requirements, employing over 65,000 people, and providing supply chain opportunities for companies across the UK and exciting and rewarding science and engineering careers which attract the best graduates. However nuclear energy has struggled to attract the support it should given its low carbon credentials. Key countries like China are moving ahead apace with further development of the best of modern nuclear technology. Our existing nuclear fleet except for Sizewell B will retire within the decade: projects beyond Hinkley Point have stalled: we appear to have great difficulty in financing nuclear projects: we have forgotten that nuclear energy plays a vital role in medicine and in food security: we are struggling to get the necessary investment in research, development and technology innovation to give us affordable, secure, sustainable nuclear energy for 2050.
We need a different approach to develop policy & economic instruments to make it happen: might small modular reactors be a better fit for a future high-renewable mix; should we be jumping a generation of technology and if so what needs to happen to make it so? The science and engineering of materials have always been fundamental to the success of nuclear power to date. They are also the key to the successful deployment and operation of a new generation of nuclear reactor systems and their associated fuel cycles. The presentation will reflect on the challenges still prevalent today and the requirement for significant ongoing materials R&D and discusses the potential role of small modular reactors; the next generation advanced systems and the important materials issues which will need to be examined.
Event Details
The webinar will be streamed live via Zoom and is available to join online from any location.
The session will be recorded and all registrants will receive a link to watch on-demand.
All timings advertised are GMT/BST.